Shiba Inu (SHIB) curled into a descending triangle, implying the decline is not over. However, since the technical model had yet to be proven, there was still hope for a rebound for the infamous meme coin.
Shiba Inu at a tipping point
SHIB rebounded quickly to levels above $0.000014 on May 13 after losing more than half of its value to establish a swing low of $0.00000873 on May 12.
Since then, the meme currency has recorded a sequence of lower highs and roughly equal lows around $0.00001035. As a result, a descending triangle appears to become consistent.
If Shiba Inu price breaks below the horizontal trendline at $0.00001035, it will fall to $0.00000719.
A rise above the downtrend line around $0.000011, where the 50 and 100 four-hour simple moving averages (SMA) appeared to converge, would signal a breakout on the upside.
A move like this would result in an increase to $0.00001466.
As a result, any effort to get SHIB out of consolidation must resist selling pressure from its investors, who may be trying to break even or cut their losses.
On the other hand, failure to create a four-hour candle above $0.000011 may cause the token to pull back towards the base line of the triangle at $0.00001035.
A break below this level would distort the bullish argument and signal the start of a new decline.
In such a circumstance, market participants can expect the Shiba Inu price to drop to $0.00000719, with a possible break around $0.00000873.
All of this has investors worried, making them bearish on Shiba Inu and opting for more promising alternatives like Tamadoge.
Tamadoge – The new neighborhood doge
Here are the five reasons why you should join the bandwagon and be bearish on Shiba Inu and bullish on Tamadoge.
Tamadoge Tokens
Tamadoge's maximum supply will be 2 billion units (2,000,000,000). During the tokenization event, there will be 1 billion tokens in circulation, of which 400 million are unminted and intended for exchange listings.
In addition, there will be 600 million units available to be invented over ten years to supply the Tamadoge project.
Tamavers
Each Tamadoge NFT will come with a fully rigged and animated 3D pet model. This will allow Tamadoge NFTs to be integrated into current metaverse environments.
Tamadoge is committed to researching collaboration options to allow you to walk your Tamadoge pets around the metaverse right out of the token. In addition, an augmented reality Tamadoge application will also allow you to walk your Tamadoge in real life.
Animals Tamadoge
Tamadoge has already planned a multitude of fun events for Tamadoge pets. They plan to develop augmented reality software that will allow you to interact with your Tamadoge pet as if they were in the same room as you.

The Play to Earn principles of online gaming will be applied to the application. Users will still be able to battle their pets to top the leaderboard, but it will also dramatically increase that along with other P2E aspects.
Tamadoge Games
Tokens will be awarded to users for the amount of time they spend interacting with their Tamadoge pet. The more you interact with your Tamadoge pet, the closer you will get and the more money you will earn.
You will be able to play with and walk multiple Tamadoge dogs simultaneously, and you can even train your Tamadoge pet's skills to get the best photos to share on social media.
Tamadoge standings
Every detail will be tracked on the Tamadoge Leaderboard, presenting the investors with the highest points to the community each month.
If that wasn't enough, Tamadoge announced much more.
Tamadoge: Dogecoin Play-To-Earn
Tamadoge (TAMA) is the new cryptocurrency project that provides consumers and investors with game-to-win (P2E) alternatives and reward benefits. Tamadoge is the native cryptocurrency of Tamaverse, a doge-centric P2E game.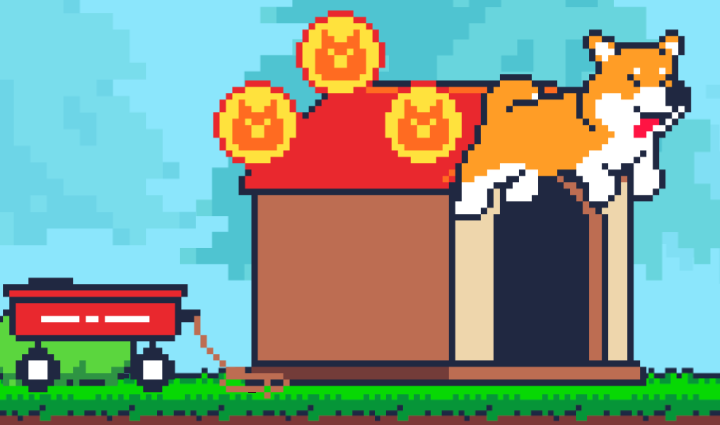 Unlike Dogecoin, which has gained popularity due to its strong social media support, Tamadoge is a multi-utility token that offers traders various use cases.
A 20% reserve has been put in place for future listings on decentralized and controlled stock exchanges.
Additionally, Tamadoge is a deflationary asset as 5% of all spent tokens are burned. This ensures that supply never exceeds demand, making the coin more valuable in the long run.
Another remarkable feature of Tamadoge is that there is no tax when purchasing or advertising this coin. Tamadoge will only earn money if the tokens you earn during gameplay are used to purchase Pet NFTs from the Tamadoge Shop.
CoinSniper – the crypto analytics platform – has confirmed this upcoming Metaverse game, and Solid Proof has completed an audit. Users can now purchase Tamadoge during the presale period.
Tamadoge Contract
Use the contract information below to add the Tamadoge token to your wallet.
Address: 0x12b6893cE26Ea6341919FE289212ef77e51688c8
Decimals: 18
Symbolic symbol: TAMA
Website link: https://buy.tamadoge.io
Read more
Battle Infinity – New Crypto Presale
Presale until October 2022 – 16500 BNB Hard Cap
First Fantasy Sports metaverse game
Play to Earn Utility – IBAT Token
Powered by Unreal Engine
CoinSniper Verified, Strong Proof Verified
Battleinfinity.io roadmap and whitepaper