As the market begins to show signs of recovery, many new cryptocurrencies and a few old ones are climbing the charts. The most popular cryptocurrencies right now are IBAT (Battle Infinity), BICO (Biconomy), MDT (Measurable Data Token), Synthetix (SNX), FTM (Fantom), MATIC (Polygon) and (LUNC) Terra Classic.
These crypto assets started generating interest last week and continued this week after Bitcoin surged above $24,000. The world's top crypto has now returned to levels above $21,000, but trending crypto coins continue to gather support.
7 Most Trending Crypto Coins Right
Search trending volumes for cryptocurrencies – IBAT, BICO, MDT and SNX increased by nearly 300% in the past week. The developers behind these assets continued to introduce new upgrades, which made the crypto crowd optimistic about them.
Battle Infinity: the active presale is a success
Battle Infinity (IBAT) is the native crypto of the Battle Infinity gaming platform. It's a multiverse of metaverses that brings together elements of fantasy sports, esports, and DeFi on a single platform. With full-fledged DeFi features, games, and an NFT marketplace, Battle Infinity is performing admirably before it even lands on major crypto exchanges.
The active pre-sale of the IBAT token was successful. It surpassed its soft cap target of 2,000 BNB in ​​one week and sold nearly 22.35% of its pre-sale supply at the time of writing.
The crypto asset started turning heads as soon as it arrived due to its holistic approach to the crypto ecosystem. Suresh Joshi, one of its founders, said that unlike today's market where the value of crypto is based on speculation, Battle Infinity takes a pragmatic approach to revenue generation.
The core team behind Battle Infinity is Indian, where discussions of cryptocurrencies are a major point of contention between new age traders and the government. Authorities have attempted to suppress crypto trading for fear of money laundering and other nefarious activities. It was only after realizing that crypto was not going away that the government introduced taxation on crypto assets. And although crypto-assets are taxed at 30%, traders hope the government will introduce economic reforms.
MDT Crypto: A New Owner Has Boosted Interest
Measurable Data Token (MDT) is a DDE or decentralized data ecosystem that provides users with data rewards and increases blockchain adoption through innovation. Last week, Chain, a Blockchain infrastructure solutions company, purchased the MDT token and its ecosystem for $100 million.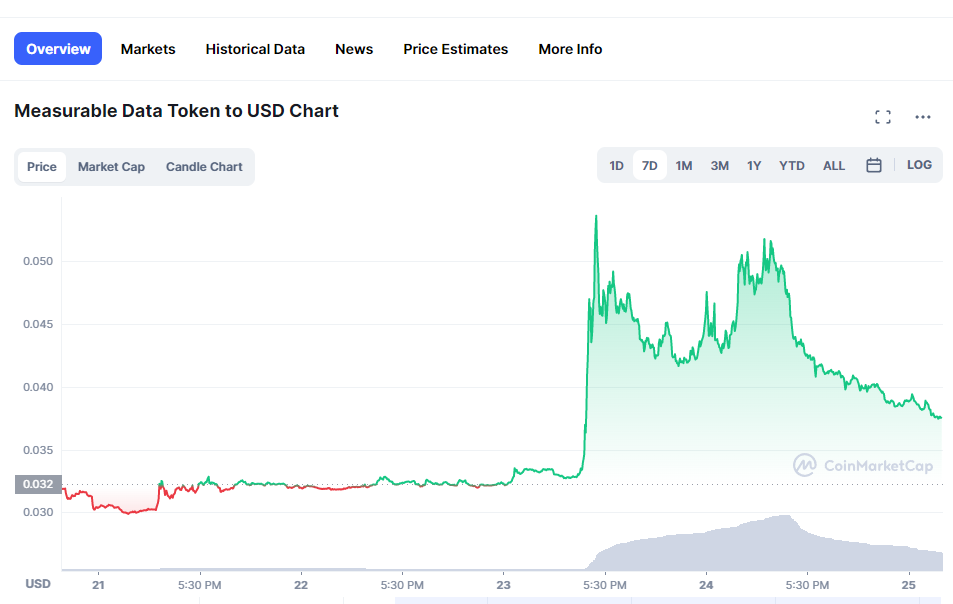 The crypto solutions company aims to increase blockchain adoption through the rewards program. That's why, along with MDT, Chain also acquired RewardMe and MeFi. RewardMe is a crypto cashback app that provides users with automatic rewards for trading using cryptocurrencies. MeFi, on the other hand, is a blockchain oracle connecting capital markets.
MDT was one of the top gainers on Binance last week. This week, however, the price has retreated 17% and is currently between $0.038 and $0.037.
Your capital is in danger.
Biconomy: Became One of the Top 200 Crypto Assets Last Week
Biconomy had two peaks last week. One was July 22n/a, 2022, when the BICO price rose sharply from $0.54 to $0.59. And the second rise took place the next day, when it rose from $0.57 to $0.69.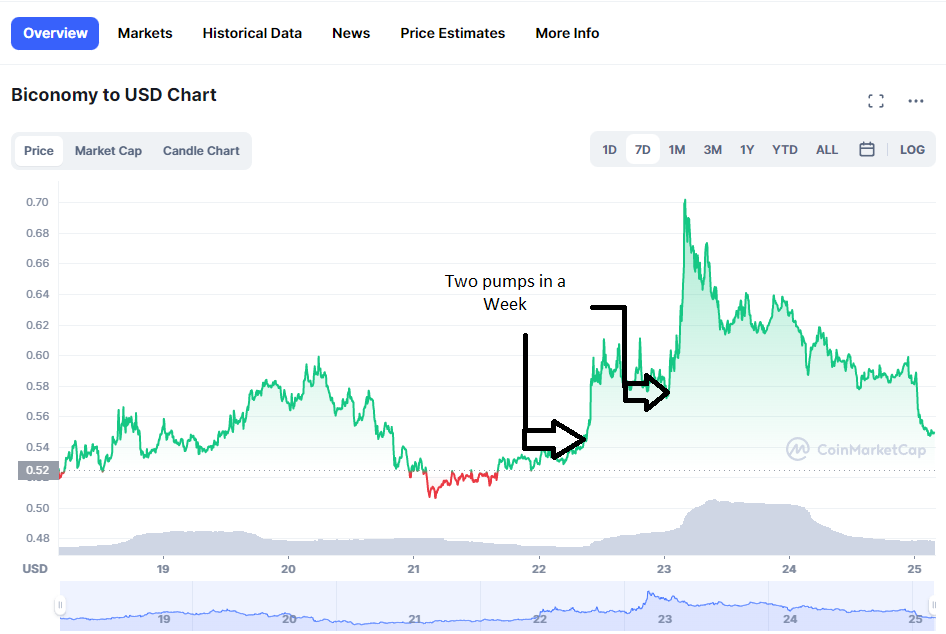 The two intra-week pumps led BICO to enter the top 200 crypto assets. That said, the token pulled back as we entered the new week. The Web 3 crypto is currently trading at $0.54.
Your capital is in danger.
Synthetix: The DeFi Token Saw Many Pumps Last Week Due to Bids and Announcements
Synthetix is ​​a DeFi (Decentralized Finance) is the native token of the Synthetix protocol. Built on top of the Ethereum blockchain, the Synthetix protocol gives on-chain exposure to off-chain and on-chain crypto assets. The protocol also offers users highly liquid synths, synthetic assets, which give investors returns on the underlying assets without owning them.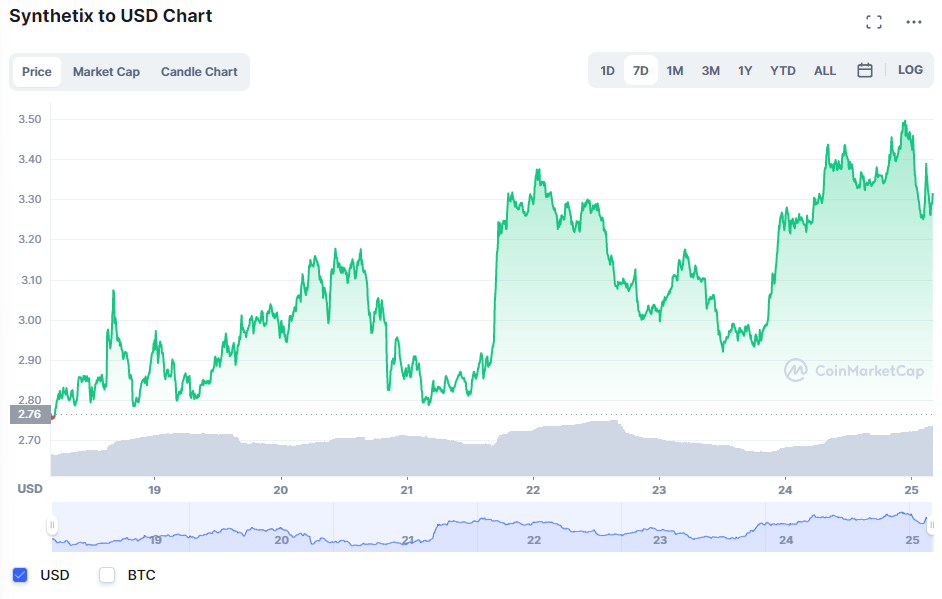 The protocol's goal of bringing non-blockchain assets to the blockchain ecosystem is revolutionary, according to many crypto watchers. Last week Synthetix opened a discussion about Synthetix Perps V2. The developers also announced upcoming changes including Synthetix V3 and Futures of Atomic Swaps.
Preceding these discussions was the renewal of Synthetix's liquidity agreement with Jump Crypto, which led to a 14% increase in tokens in 24 hours last week. The value of the token has since been traced, but not by much.
2) Before this thread starts, there are two great tweets about upcoming Synthetix changes

Synthetix V3 – https://t.co/L301MwTfKa

Upcoming Synthetix Releases and Mid-Year Review – https://t.co/zz8gJYBKJg

— Synthetix ⚔️ (✨🔴_🔴✨) (@synthetix_io) July 21, 2022
At the time of writing, Synthetix is ​​trading at $3.32, with a 24-hour trading volume of $144 million. The rapid development over the past week and more announcements this week are why Synthetix is ​​one of the trending cryptocurrencies.
Are you interested in Synthetix? Discover our Synthetix Buying Guide.
Fantom: DAG platform shows signs of recovery
Fantom is the native crypto asset of the Fantom Protocol – a DAG-based smart contract platform designed to deliver DeFi services that focus on high transaction speeds. The protocol also aims to improve the security and decentralization aspects of the crypto ecosystem.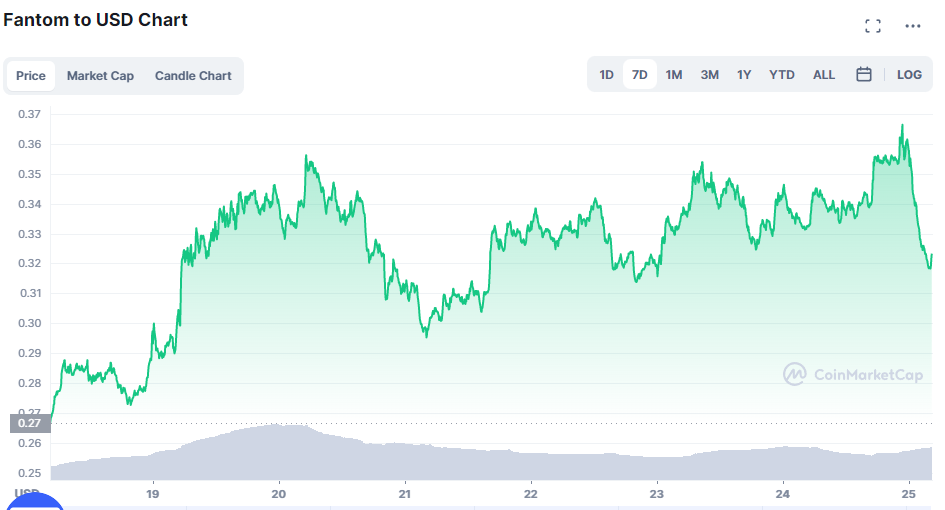 Crypto assets have seen plenty of volatile price action over the past week with numerous pumps and retraces. FTM price rose 14% in the past week as it closely followed Ethereum price action. The world's first altcoin started painting bullish reversal patterns the previous week after the developers announced the tentative launch date for "The Merge" update.
Ethereum broke above its $1,640 resistance on Sunday before correcting to levels above $1,500. General sentiments regarding the token remain bullish, but many are waiting for ETH price to break below the $1,000 support.
Exodus Crypto Wallet also recently added support for FTM, which could be another reason behind the bullish price action of the cryptocurrency.
Has already explored the growing ecosystem running on the fast, inexpensive, and EVM-enabled system @FantomFDN Main network?

We've got you covered: FTM is fully supported in our latest update. pic.twitter.com/kAViyrZ629

— Exodus – Crypto Wallet (@exodus_io) July 22, 2022
Invest in Fantom through eToro
Your capital is in danger.
Polygon: trading more in the green since last week
Polygon (MATIC) is the native crypto of the Layer 2 scaling solution: Polygon. This crypto has been trading in the green since July 20, 2022, creating many bullish engulfing patterns.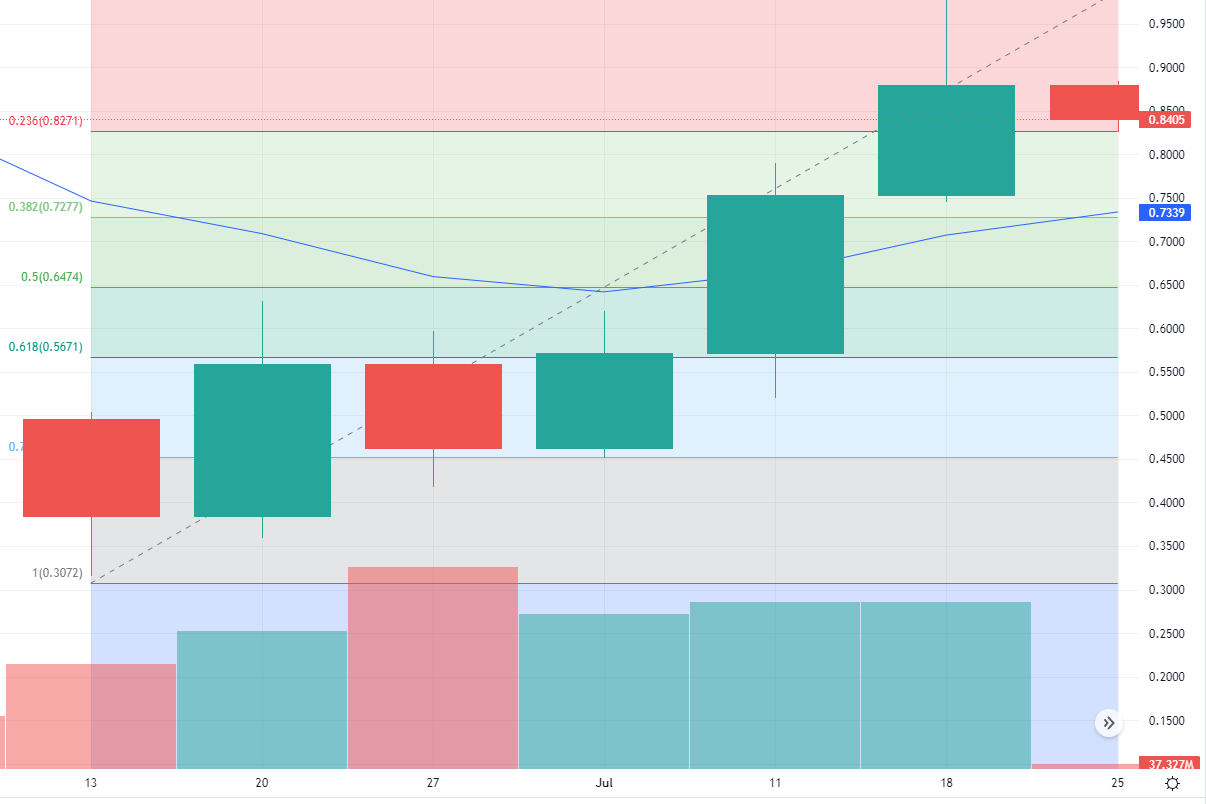 Polygon developers have announced the launch of zkEVM – a new EVM-equivalent scaling solution. Simply put, it provides users with developer tools that can be used on both zkEVM and Ethereum. The EVM equivalent aggregates batches of transactions and uses ZKP to validate them all at once on the Ethereum blockchain.
We are proud to announce a giant leap for Ethereum scaling and ZK innovation.

Presentation of the polygon #zkEVMthe first EVM ZK L2 equivalent.

Today we're releasing a complete, fully open-source implementation, and we're just getting started.

[1/6] pic.twitter.com/P929DRCT1y

— Polygon – MATIC 💜 (@0xPolygon) July 20, 2022
Your capital is in danger.
Terra Luna Classic: On the road to recovery
The original Terra ecosystem token made headlines last week after hitting the $0.00011 mark. The sharp spike led the crypto crowd to speculate whether the token would now find stable ground and grow.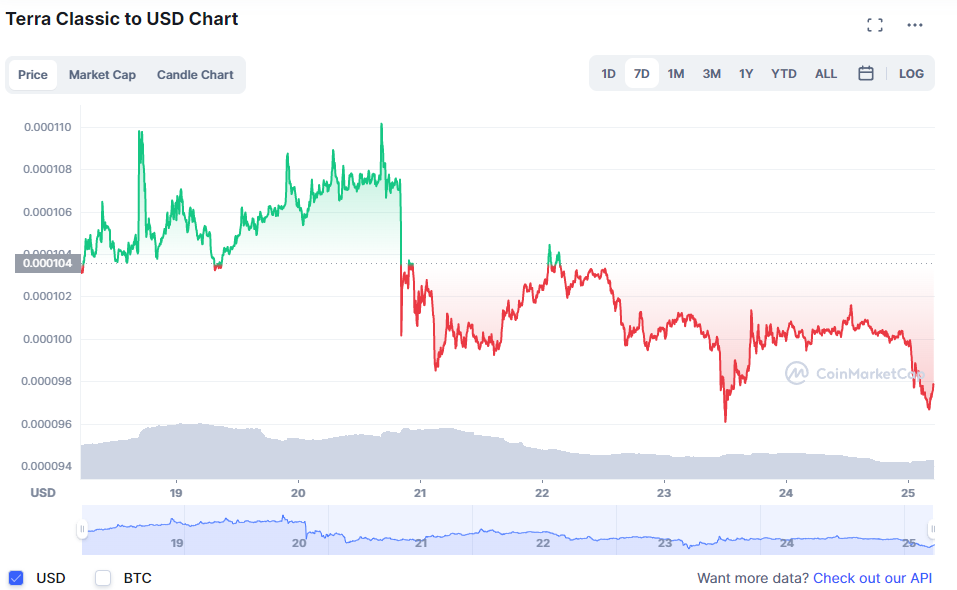 The spike was short-lived, however, as the price corrected sharply the next day to 0.000100 before bouncing back. At the time of writing, LUNC price is trading sideways in the range of $0.000096 and $0.000098.
Your capital is in danger.
Is Crypto Recovering?
Naturally, after seeing so many tokens trading in the green, people started to wonder if we are slowly coming out of the bear market.
That said, most experts still tell investors to be careful. Bitcoin showed signs of recovery last week, surging above $24,000. But it has now fallen below its $22,000 support, becoming its test region.
That said, the market may move higher once Bitcoin stabilizes and The Merge Upgrade finally arrives. Until then, it will be important to keep an eye out for the latest updates to new altcoin protocols to make the crypto ecosystem more conducive to growth.
Read more
Battle Infinity – New Crypto Presale
Presale until October 2022 – 16500 BNB Hard Cap
First Fantasy Sports metaverse game
Play to Earn Utility – IBAT Token
Powered by Unreal Engine
CoinSniper Verified, Strong Proof Verified
Battleinfinity.io roadmap and whitepaper