The crypto market traded in the red during today's trading session as Bitcoin and Ethereum shed last week's gains. The top cryptocurrency by market capitalization appears to be reacting to the Federal Open Market Committee (FOME) meeting scheduled for tomorrow.
During this event, the US Federal Reserve (Fed) is expected to potentially announce an interest rate hike. The projection was for a hike of 75 basis points (bps), but the financial institution could surprise the market with 100 bps in an attempt to reduce inflation.
The Consumer Price Index (CPI), a metric used to gauge US dollar inflation, is at a 40-year high. This forced the Fed to change its monetary policy by raising interest rates, shrinking its balance sheet and removing liquidity from global markets.
As a result, Bitcoin and the crypto market have been on a downward trend. The benchmark crypto experienced a period of relative stability when it was able to stabilize at around $20,000, the current price level of BTC.
The altcoin sector was less fortunate as Ethereum (ETH), Cardano (ADA), Solana (SOL) and other major cryptocurrencies broke above critical resistance. Some altcoins are returning to their 2020 levels as Bitcoin dominance trends higher.
This is an indication of the uncertainty and risk sentiment in the crypto market. The metric has seen a decline over the past two weeks due to expectations of easing inflation, supported by a drop in commodity prices, and the announcement of a date for the "merger" of Ethereum.
Data from Arcane Research confirms the above, as the research firm sees a drop in performance for its large, mid and small cap index. As seen below, these indices have seen heavier losses than Bitcoin as BTC Dominance gains bullish momentum.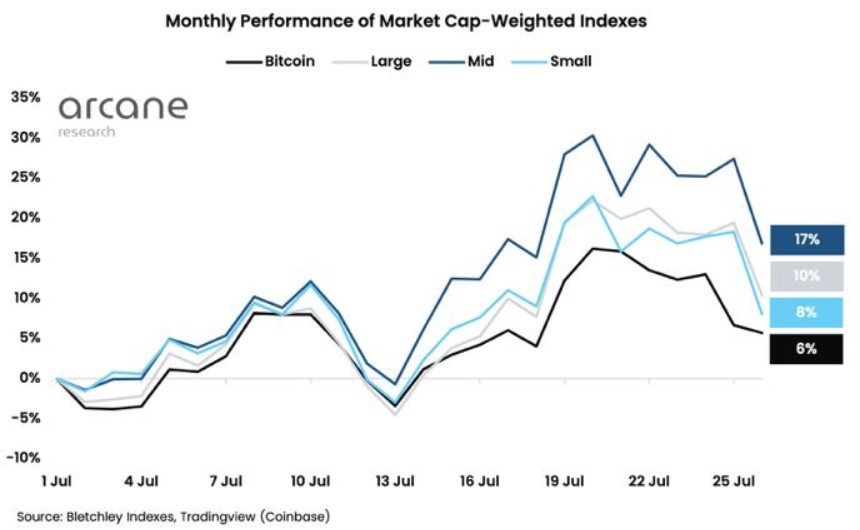 Bitcoin Dominance Spike Hints at Crypto Market Uncertainty
Arcane Research noted that the sector's overall weakness is due to "natural rotation as traders seek safety in a falling market." The rise in Bitcoin dominance has been accompanied by an increase in the total market share of stablecoins.
In other words, market participants buy Bitcoin and stablecoins to protect them from potential downside risks. The report stated:
Ether's lack of strength against bitcoin has caused its market dominance to fall by 0.34% over the past week. In contrast, Bitcoin saw its market share increase by 0.47%. This is a natural rotation as the market declines, as investors view bitcoin as a lower risk asset than ether.
Tomorrow's FOMC meeting will decide the near-term fate of BTC dominance and the fate of the biggest cryptocurrencies.