After the release of official US inflation figures, bitcoin prices started to rise. However, over the past month, BTC miners have increased their outflows.
A new set of tax policies aimed at preventing domestic cryptocurrency mining have been unveiled by Kazakhstan, which is still an important nation in the Bitcoin mining world.
During a global activity shutdown and fire selling related to recent bankruptcy-related news, Bitcoin mining rig prices are also believed to have fallen to epidemic lows for 2020.
More importantly, Texas power grid operators have asked all Bitcoin miners to cease operations to reduce pressure on an already overloaded power grid.
Influx of Bitcoin miners hits new ATH
IT Tech reports that Bitcoin miners transferred more than 14,000 BTC at a single block exchange. The transfer of the miner's wallet to the exchange was noted as unfavorable for the market. According to their definition of mining pool wallets in their stats, all members of the pool, including the specific miner, are included.
One user, however, pointed out that these Bitcoins do not reflect in the spot or derivatives market. Glassnode reported that Netflow volume from BTC miners on a 7-day moving average (MA) basis hit an all-time high (ATH) of $1,779,953. In the first week of January 2022, an ATH of $1,700,940 was recorded.
This exit did not stop at the exchange wallet, according to Ki Young Ju, CEO of CryptoQuant. It will probably end up in a cold storage wallet. This can be used as an OTC deal or as a custody service. According to him, the news is either bullish or neutral.
The miner just moved 14k $BTC:
Poolin participants → Unknown wallet

It did not go to an exchange wallet, but rather to a cold custodial wallet. This may be the use of a custodial service or an OTC agreement. This is neutral or bullish news.

Nice catch @IT_Tech_PL https://t.co/G25DsK2nR6 https://t.co/rYmqVaoTAR

— Ki Young Ju (@ki_young_ju) July 15, 2022
Related Reading | Mid Cap Coins Lead in July, Best Way to Weather Winter?
Can the price increase?
Additionally, open interest is increasing, according to IT Tech, and the market may see growth soon. Bitcoin miner reserves have declined over the past two weeks, according to the study. However, this can be a significant sign of loss of confidence in a price rally.
In the last 24 hours, the price of bitcoin has increased by more than 6%. BTC is currently trading for $20,953 on average. Its 24-hour trading volume is up 2% to $32.8 billion.
BTC active addresses have increased over the past 24 hours, according to Saniment. The number was close to one million at press time, up from 860,000 on July 14. This demonstrates that investor sentiment is improving rapidly.
Source: Santiment
The volume, which increased from 28.13 billion to 31.64 billion, is in a comparable scenario. For Bitcoin maximalists, the rise in price over the past 24 hours on July 15 may be a sign of relief. In fact, at the time of writing, Bitcoin's market capitalization has grown from $376 billion to $395 billion.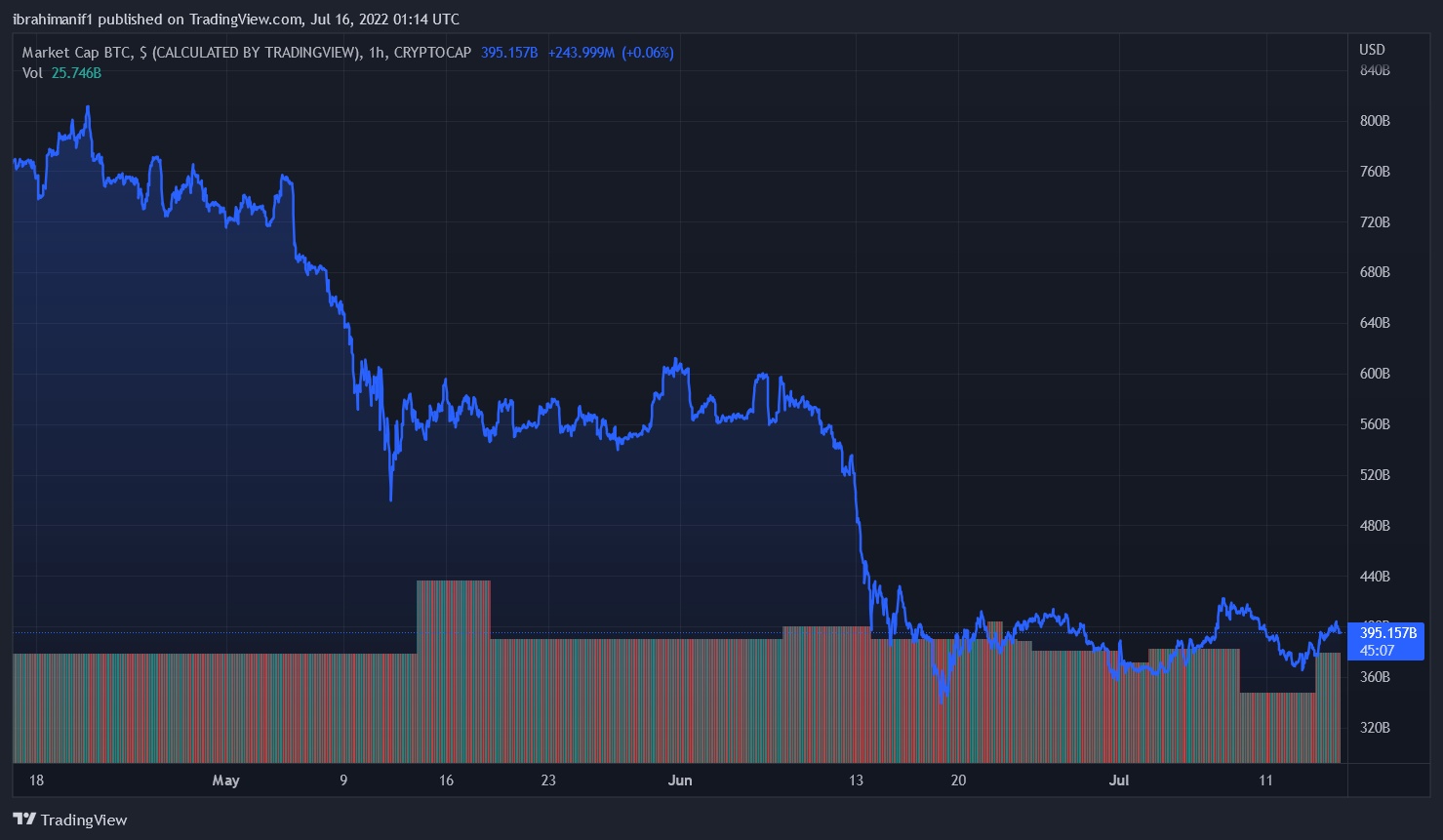 BTC market cap surges. Source: TradingView
Meanwhile, Anthony Pompliano said in his analysis that the price of bitcoin is falling due to rising inflation. It may be correct, he continued, that it is not a solid hedge against the CPI.
Related Reading | Bitcoin Price Spends Four Weeks At 2017 Peak Prices, So What?
Featured image from Pixabay, charts from TradingView.com and Santiment