Binance Coin Price Prediction – July 26
In light of the general prevalence of downward movement in most crypto economies, the BNB/USD market tends to sit at $200 in the long run. The last thirty trading days depict the crypto economy as seen in the $205 and $274 points while its price percentage rate is negative 0.74.
Binance Coin Price Statistics:
BNB price now – $242.78
BNB Market Cap – $39.2 Billion
BNB circulating supply – 161.3 million
Total supply of BNB – 161.3 million
Coinmarketcap Ranking – #5
Binance Coin Market
Key levels:
Resistance levels: $255, $275, $295
Support Levels: $225, $200, $175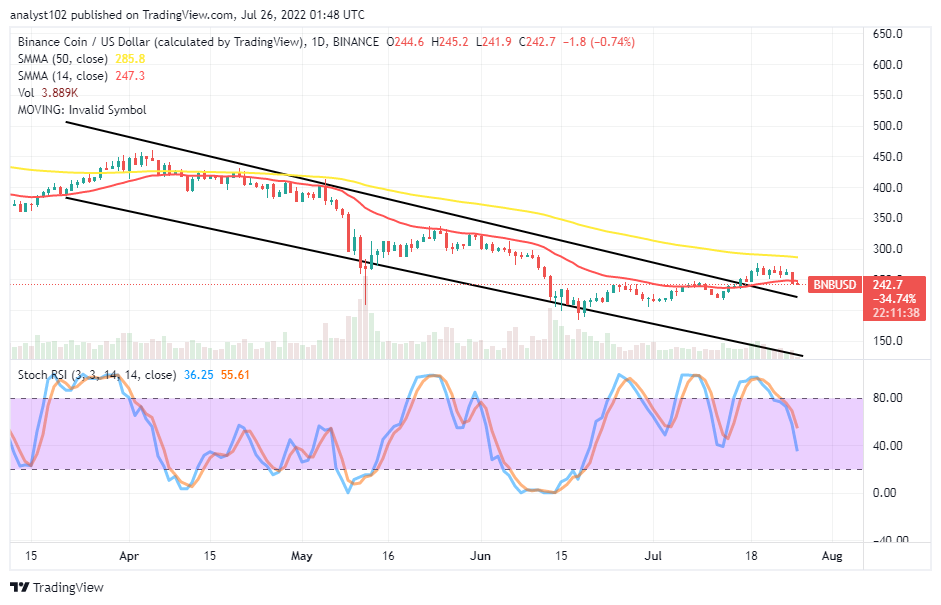 BNB/USD – Daily Chart
The BNB/USD Daily Chart Features Crypto Market against US Dollar valuation tends to be at $200 looking for the current downtrend move. The 14-day SMA indicator is found below the 50-day SMA indicator. The upper downtrend line moved south below the smaller SMA trendline to settle around $223 or thereabouts. The Stochastic Oscillators have crossed south from the overbought region to an area in the 40 range. And they are still pointing south indicating that some downside forces are afoot.
Can there be a reconstruction of support around $223 in the BNB/USD market going forward?
A support reconstruction process may occur subsequently in BNB/USD market trades between $223 and $200 if not violently breached on the downside, as the crypto-economy tends to be at the line of lower long-term value. Not even one indicator suggests a reversal of the downward move for long takers to take advantage of their entries. Hence the need to wait for market reactions around the previously mentioned points before considering executing a buy order.
On the downside of the technical analysis, the BNB/USD market bears found market strength after the price faced rejections narrowly below the 50-day SMA trendline, which lies around the $285 resistance level. There was a slight break from the 14-day SMA trendline on the downside. There may still be little strength price to lean on to see through the lower support lines. Therefore, short placers should be wary of entering the market too late to avoid the unnecessary downside trap.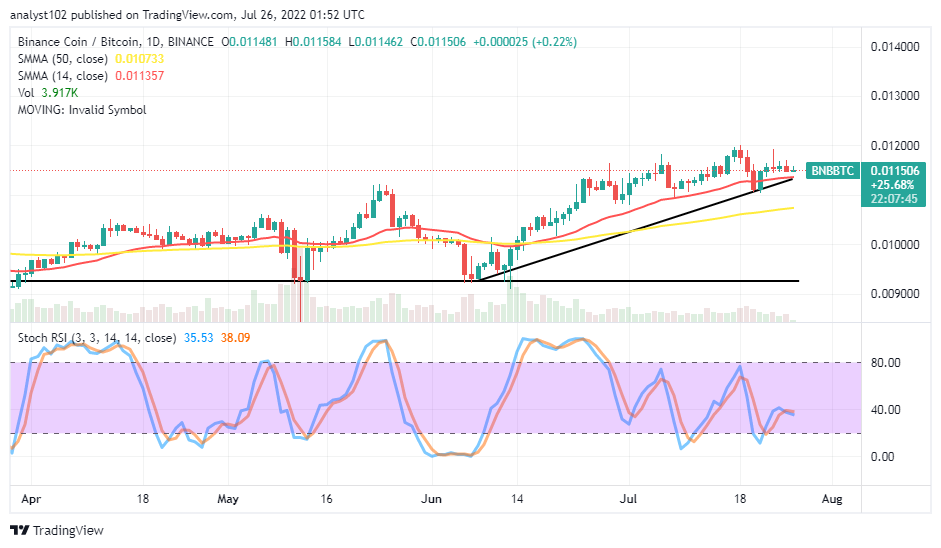 BNB/BTC price analysis
Binance Coin, relative to Bitcoin's trending ability, has reasonably held a higher resistance spot. The price of the currency pair tends to settle in a lower trading zone between the SMA trend lines thereafter. And it may not be the downward movement that will continue. The 14-day SMA indicator is above the 50-day SMA indicator, and the uptrend line has drawn below the lower SMA to indicate the northward trajectory. The Stochastic Oscillators are hovering around the 40 range, trying to cross over to the south side. This shows that the base crypto may still decline weakly for some time against its counter.

Battle Infinity – New Crypto Presale
Presale until October 2022 – 16500 BNB Hard Cap
First Fantasy Sports metaverse game
Play to Earn Utility – IBAT Token
Powered by Unreal Engine
CoinSniper Verified, Strong Proof Verified
Battleinfinity.io roadmap and whitepaper
Read more: