Bitcoin Resumes Consolidation as It Crashes and Finds Buyers at Lower Levels – July 31, 2022
Since July 30, BTC/USD has traded marginally as it breaks down and finds buyers at lower levels. The price movement was insignificant due to the indifference of buyers and sellers. BTC price fluctuated below and above the $23,000 support.
Bitcoin price statistics:
• Current bitcoin price: $22,818.84
• Bitcoin Market Cap – $436,283,175,629
• Bitcoin Circulating Supply – 19,110,837.00 BTC
• Total bitcoin supply: $479,411,063,377
• Coinmarketcap Bitcoin Ranking – #1
Resistance levels: $50,000, $55,000, $60,000
Support Levels: $25,000, $20,000, $15,000
Over the past five days, Bitcoin has declined from the high of $24,736. The decline reached the lowest support of $23,000. The bears did not break the $23,000 support convincingly. Today, the bulls and bears are struggling above the $23,000 support. At some point, the bears will push the price down below the $23,000 support. While at other times the bulls will push Bitcoin above the $23,000 support. Ultimately, the market will turn down and may find support above the moving average lines. On the other hand, if Bitcoin finds support above the moving average lines, the crypto will be between $22,000 and $24,000.
European Central Bank advises CBDC on BTC for cross-border payments
The ECB has identified CBDC as the best cross-border payment solution that serves as the central bank of the 19 European Union countries that have adopted the euro. EBC's view of Bitcoin as a bad cross-border payment system boils down to the highly volatile asset's settlement mechanism, adding that: "Since settlement in the Bitcoin network only occurs approximately every ten minutes, valuation effects are already materializing at this time of settlement, making bitcoin payments more complicated. Conversely, the ECB has accepted CBDCs as better for cross-border payments due to greater compatibility with foreign exchange (FX) conversions Two major advantages highlighted in this regard are the preservation of monetary sovereignty and the ease of instant payments through intermediaries such as central banks.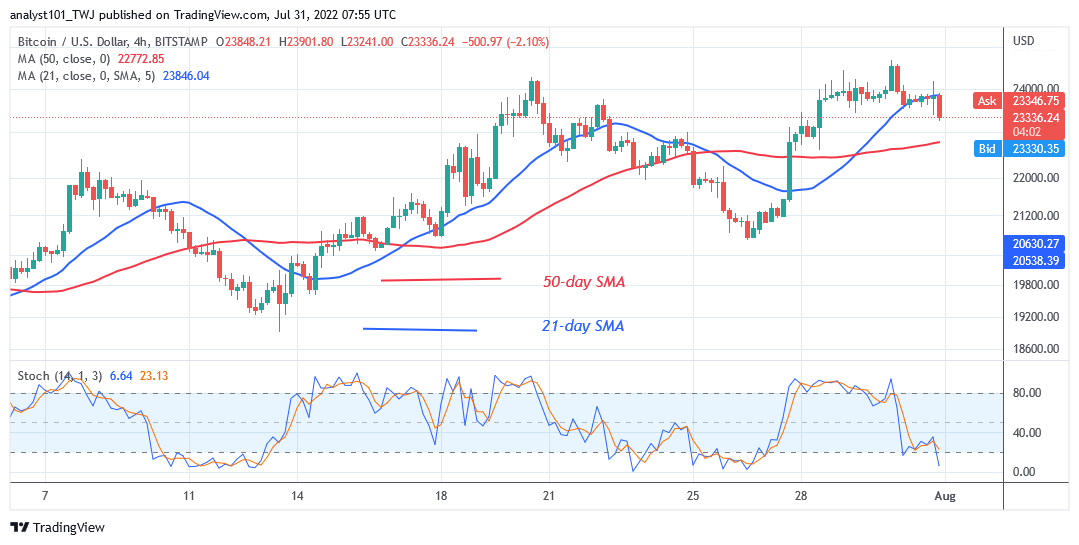 Meanwhile, Bitcoin fell to lows of $22,801 as it slumps and finds buyers at lower levels. It is unclear whether the decline will reach the psychological price level of $20,000. The price of BTC is at the 52 level of the 14-period relative strength index. This indicates that the market is in the uptrend zone.
Read more:
• How to buy cryptocurrency
• How to buy bitcoins
Battle Infinity – New Crypto Presale
Presale until October 2022 – 16500 BNB Hard Cap
First Fantasy Sports metaverse game
Play to Earn Utility – IBAT Token
Powered by Unreal Engine
CoinSniper Verified, Strong Proof Verified
Battleinfinity.io roadmap and whitepaper