BTSEa global digital asset exchange serving major crypto institutions and retail traders, has launched a new crypto trading terminal powered by the German company Margin. The trading terminal offers five different trading bots and allows users to create custom bots using Python. BTSE users can simply download the terminal and use it for free. Margin's trading bot functions will be fully integrated into the BTSE platform in the near future to provide a seamless trading experience.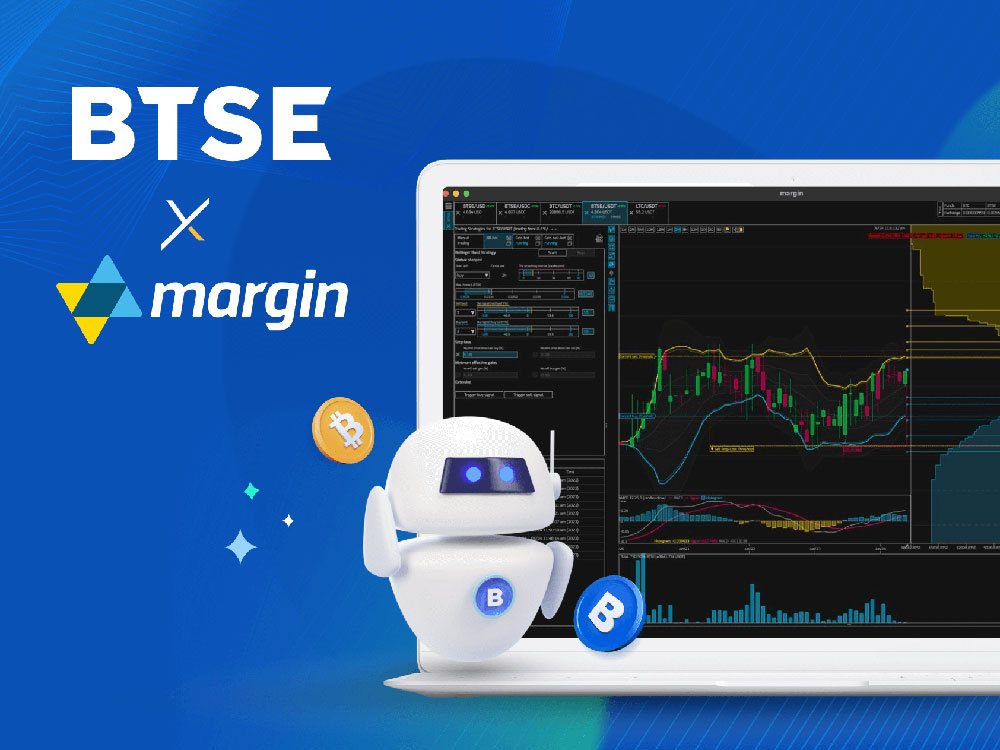 BTSE is a leading digital asset exchange offering an easy and secure way to trade with confidence. BTSE takes advantage of the financial decentralization made possible by cryptocurrencies, while improving convenience, accessibility and returns. Margin integration will give BTSE users the ability to monitor technical indicators and execute pre-configured trading strategies without human intervention.
Margin has created the world's first dedicated crypto trading terminal supporting exchanges such as Binance, FTX, Huobi, etc. It is an automated, secure and intuitive platform designed exclusively for cryptocurrency traders. Margin offers a highly visualized trading experience with a responsive and convenient user interface. BTSE's collaboration with Margin aims to make it easier to set up automated trading bots for users interested in bot trading. This automated application can also serve as a trader's risk control mechanism against losses in a volatile market, as humans are not able to monitor market movements 24/7.
Trading robots are software that connect to exchanges through an API and perform trades on behalf of users. They benchmark a variety of user-configured trading indicators and strategies, and are more efficient than humans in performing fast, complex probabilistic calculations. Margin offers a demo version with real market data to allow users to gain confidence before deploying bots that trade using real funds.
"Crypto markets operate 24/7 and never sleep. Having a variety of trading bots and tools helps traders navigate these markets while trading BTSE. Crypto trading bots are intended for both beginners and advanced users, as they can facilitate more profitable and well-managed entries and exits during times of volatility and abnormal conditions. We are excited to bring new trading bot features to our users, allowing them to use tried and tested trading terminals like Margin," said Henry Liu, CEO of BTSE.
"Margin offers an easy-to-use and user-friendly trading terminal. Using this application, users can set up different strategies to buy or sell cryptocurrencies. The trading terminal also offers users a Graphical User Interface (GUI) which provides several features such as detailed charts as well as drag and drop options to configure trading strategies," said Jonathan Maycock, co-founder and CEO of Margin.
The trading terminal adds to the growing functionality of the BTSE platform, providing users with a multi-faceted trading experience with the ability to earn passive income. To learn more about this new feature, tutorials and download options, please visit www.btse.com/en/tradingterminal.
About Margin
Margin launched its crypto trading terminal in 2017. It includes 5 different types of trading bots and the ability to code custom bots using Python. They currently have around 16,000 users and up to 3,000 daily active users. Please find more information about the terminal, trading robots and the company at www.margin.de.
About BTSE
BTSE is a leading digital asset exchange that allows users to offer an easy and secure way to trade. Its proven technology powers a growing range of digital financial services. BTSE's products and services include multi-currency spot and derivatives trading, over-the-counter (OTC) trading and asset management.
BTSE aims to advance users' investment goals by taking advantage of the financial decentralization made possible by cryptocurrencies while improving convenience and accessibility. The exchange allows users to trade with confidence by offering a single solution that encompasses digital assets and fiat currencies.
BTSE – Buy, Trade, Sell, Earn. Visit www.btse.com/en/home.