Cronos (CRO) Price Prediction – August 2
The current trading outlook in the CRO/USD market trades means that the crypto-economy is aiming to rise from a lower trading zone. The price saw an all-time low of $0.01149 and an all-time high of $0.9698 as it is currently trading around $0.1516 at a positive 9.44 percent.
Cronos (CRO) Price Statistics:
CRO price now – $0.1515
CRO Market Cap – $3.8 billion
CRO circulating supply – 25.3 billion
Total CRO supply – 30.3 billion
Coinmarketcap Ranking – #23
CRO/USD market
Key levels:
Resistance levels: $0.1875, $0.2075, $0.2275
Support levels: $0.1095, $0.0995, $0.0895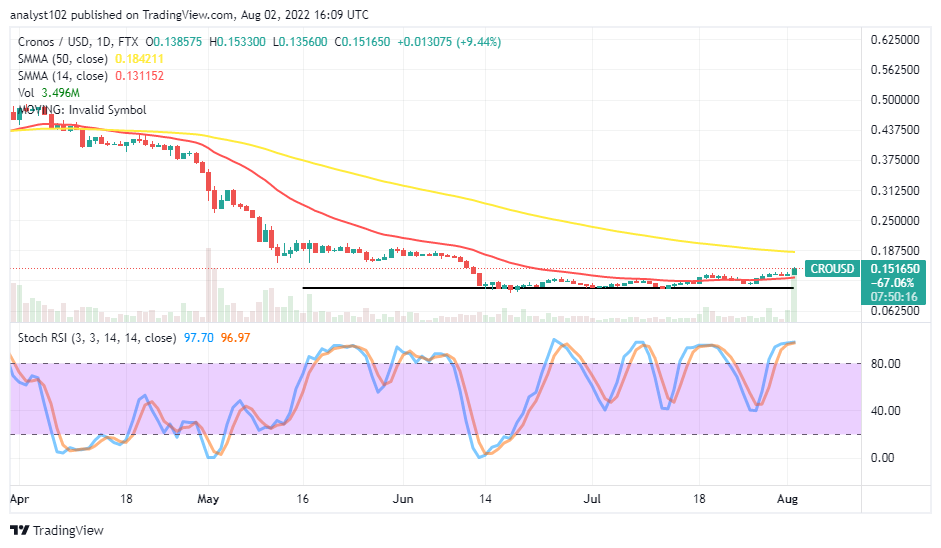 CRO /USD – Daily Chart
The CRO/USD daily chart reveals that the crypto market is aiming higher through resistances above the trendline of the smaller SMA. The 14-day SMA indicator is at $0.131152 below the 50-day SMA indicator, which is at 184211. The base line of support is at $0.1095, showing the trading arena where the current breakouts have arisen over time. Stochastic oscillators are in the overbought region, seemingly attempting to close their lines soon.
Is it technically acceptable to join the upward CRO/USD price trend now?
It seems too late to join the The CRO/USD market is on the rise now as the crypto-economy aims to break above the 14-day SMA trendline. The appearance of the stochastic oscillators in the overbought region makes it difficult to obtain further increases. Based on this assumption, long position takers may need to exercise caution to use a large lot size. Nonetheless, investors can consider joining the bandwagon now and allow the portfolio to perform over the long term.
On the downside of technical analysis, short position takers in the CRO/USD market may need to be vigilant when a moment of price rejection enters the SMA trading spaces. The emergence of two bearish candlesticks will give a better signal towards a decent sell order in the process. But, the main resistance trading point remains at the $0.1875 level. It should be noted that current will best suit long-term investors.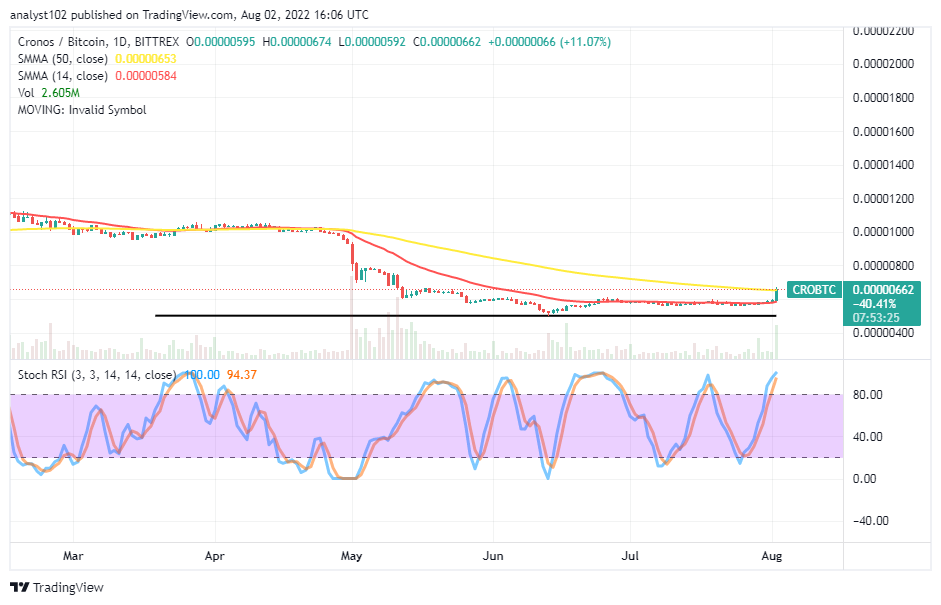 CRO/BTC Price Analysis
Compare Chronos catalyst with bitcoin's trending ability struggled to push higher and higher. The price of the cryptocurrency pair aims to break above the trend line of the larger SMA. The 14-day SMA indicator is found below the 50-day SMA indicator. The baseline moved closer to the smaller SMA to indicate where the upward swings occurred. Stochastic oscillators are in the overbought region. And they have not yet given a clear counter signal to the bullish movement. A false breakout of the larger SMA can allow the counter-exchange crypto to regain its position against its base crypto.

Battle Infinity – New Crypto Presale
Presale until October 2022 – 16500 BNB Hard Cap
First Fantasy Sports metaverse game
Play to Earn Utility – IBAT Token
Powered by Unreal Engine
CoinSniper Verified, Strong Proof Verified
Battleinfinity.io roadmap and whitepaper
Read more: