El Salvador's Finance Minister Alejandro Zelaya said that the adoption of bitcoin has helped the country's unbanked citizens. Despite calls from detractors, Alejandro supported the country's plan to use Bitcoin as legal tender.
In an interview with Bloomberg, Alejandro Zelaya said that using Bitcoin as legal tender has enabled a significant portion of the unbanked population to gain access to financial services. It has also increased tourism and attracted foreign investment, he says.
Moreover, he continues to believe in it despite the fact that digital currency is rarely used as a medium of exchange. He said the government still intends to create a Bitcoin-backed bond using blockchain technology.
Your capital is in danger.
El Salvador's finance minister defended the adoption of BTC
According to estimates from Salvadoran President Nayib Bukele's tweets, the government bought 2,381 bitcoins with taxpayers' money, which is now worth about half of what the government paid for them. According to a survey by the US National Bureau of Economic Research, most businesses and customers in El Salvador still prefer to make purchases and send funds in hard cash.
Traditional banking institutions have criticized the use of cryptocurrency in El Salvador, and the International Monetary Fund (IMF) pushed the country to stop accepting bitcoin as legal tender in January.
Bitcoin initiatives are still evolving
According to Bloomberg, the government is still working to provide bitcoin-backed bonds. Former Honduran President Manuel Zelaya predicted this would happen as market conditions improve. He said more incentives would be announced soon and plans for "Bitcoin City" were still ongoing. "We won't see immediate results," former Honduran President Manuel Zelaya said. Investors need to be patient. Besides believing that "new technologies will help people in the future," Zelaya said he supports the traditional multilateral monetary system.
The government of El Salvador is still buying Bitcoin
The legal tender legislation was passed on September 7, 2021. While the price of Bitcoin has fallen 54% since then. Since the government used taxpayer funds to buy the tokens, the government's current unrealized losses total $49.9 million.

However, the Salvadoran government purchased 2,381 bitcoins with public funds, which are now worth almost half of what the government paid for them. These conclusions were based on President Nayib Bukele's tweets.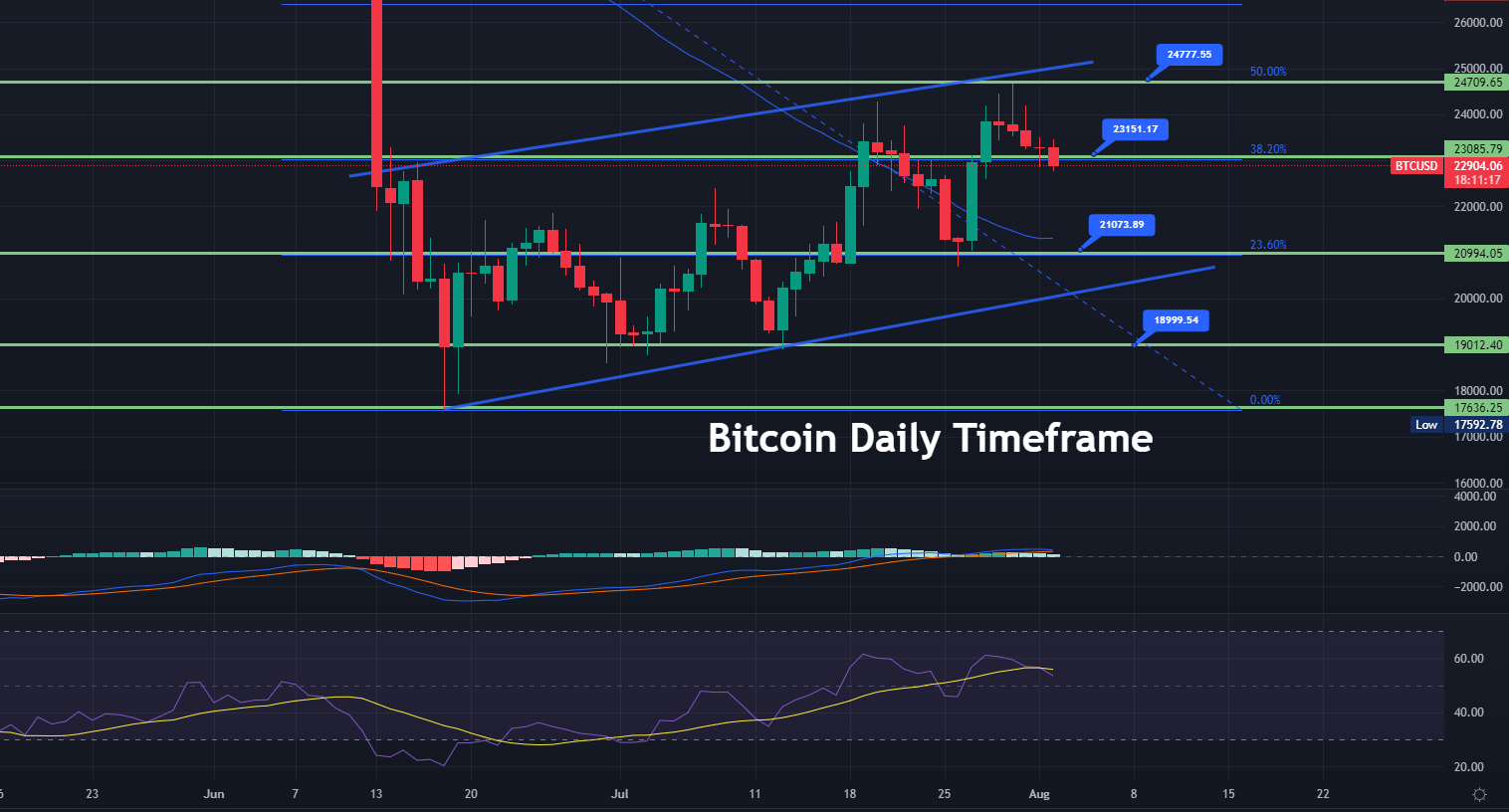 Bitcoin Technical Outlook
BTC had a great week but showed a slight bearish correction on Tuesday. Bitcoin is trading below the $23,000 mark, with immediate support at $21,750. If BTC falls below this level, it could fall as low as $20,990. The RSI and MACD indicators indicate a bullish bias.
On the other hand, the 50% Fibo level is a strong resistance level at $24,750. Many were expecting a cryptocurrency selloff after two quarters of negative GDP in the US, but that has yet to happen.
That said, a break above $24,750 may expose BTC to a 61.8% Fibonacci retracement level of $26,650. Best wishes!
Read more:
Battle Infinity – New Crypto Presale
Presale until October 2022 – 16500 BNB Hard Cap
First Fantasy Sports metaverse game
Play to Earn Utility – IBAT Token
Powered by Unreal Engine
CoinSniper Verified, Strong Proof Verified
Battleinfinity.io roadmap and whitepaper