ETH Pushes Higher – July 28
There was a clear sign that the ETH/USD market as the price of the crypto moved slightly higher to slightly exceed the high point of the range at $1,500. Over the past seven trading days, the matching instruments have traded between the $1,362.95 and $1,666.88 value lines. The price now exhibits a minimum negative percentage rate of 0.31.
Ethereum (ETH) Statistics:
ETH Price Now – $1,620.77
Market cap of ETH – $198.5 billion
Circulating supply of ETH – 121.7 million
Total supply of ETH – 121.7 million
Coinmarketcap Ranking – #2
ETH Pushes Higher: The ETH Market
Key levels:
Resistance levels: $1500, $1750, $2000
Support Levels: $1000, $800, $600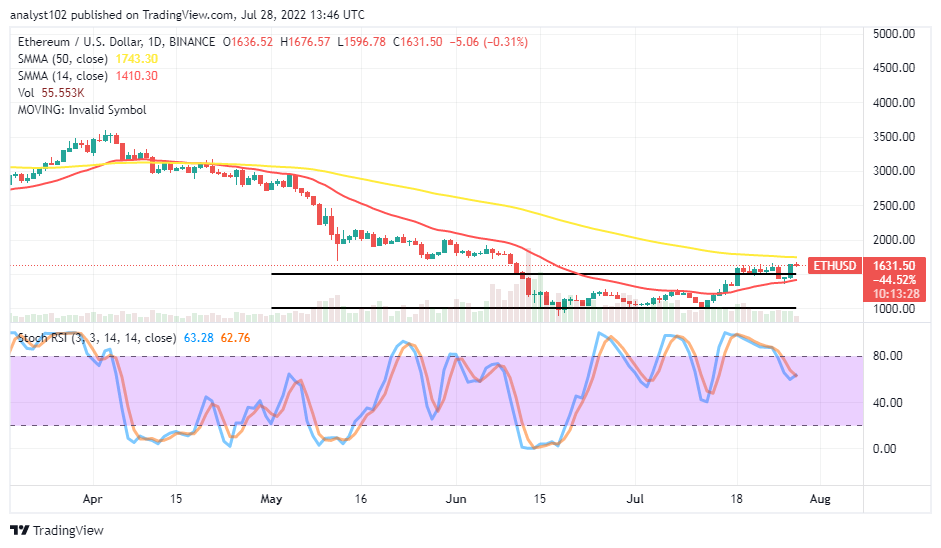 ETH/USD – Daily Chart
The ETH/USD daily chart reveals that the crypto market briefly rises above the upper $1,500 range, just below the trendline of the larger SMA. The 14-day SMA indicator is found below the 50-day SMA indicator. The upper and lower horizontal lines are at $1,500 and $1,000 to signify that the range bound points are intact. Stochastic oscillators crossed somewhat obliquely south from the overbought region, apparently trying to retrace north around the 60 range.
Will ETH/USD market price soon break above the 50-day SMA point at $1,743.30?
It may take some time before the ETH/USD recovers above the 50-day SMA trendline, which is hovering around a resistance point of $1,743.30, as the crypto economy pushes higher towards the point in question. If this assumption were to be, it means that long position takers might have to avoid placing a new buy order around the value line for some time. A necessary correction or a pit stop is inevitable in no time. This is to add more cautionary notes against new nostalgia stances around this trading ability.
On the negative side of technical analysis, a bearish candlestick should emerge at a higher resistance trading point to confirm the possibility of a signal suggesting the end of further breakouts via variant resistances. The 50-day SMA indicator will determine the strength of the upside. And if it breaks out aggressively, it may invalidate hopes of making a decent sell entry around the $1,743.30 resistance level.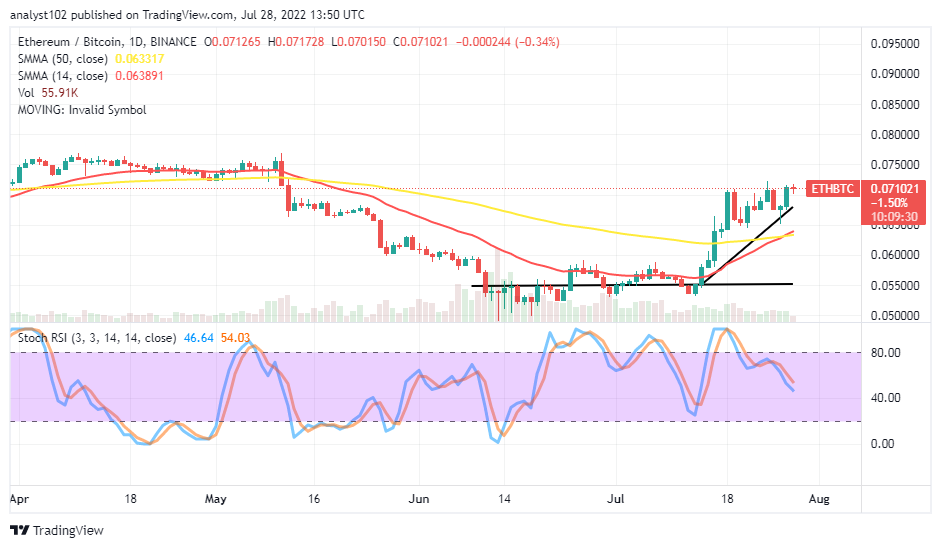 ETH/BTC price analysis
Ethereum, against Bitcoin's trending ability, maintained an increased trading status against its crypto counter. The price of the cryptocurrency pair is pushing higher above the SMA trend lines. The 14-day SMA indicator moved north to join the 50-day SMA indicator. The uptrend line has moved closer to the candlesticks that form the path to the upside. The Stochastic Oscillators have moved south somewhat near the 40 range. The base crypto encounters rejection at a higher trading point around B0.072092 or thereabouts. The price might not break it quickly during the close session.

Battle Infinity – New Crypto Presale
Presale until October 2022 – 16500 BNB Hard Cap
First Fantasy Sports metaverse game
Play to Earn Utility – IBAT Token
Powered by Unreal Engine
CoinSniper Verified, Strong Proof Verified
Battleinfinity.io roadmap and whitepaper
Read more: