Over the past 24 hours, the market has seen gains. Ethereum rose 8.13% while market king Bitcoin rose 3.25%. The performance of the remaining major cryptocurrencies was comparable to that of the two majors.
With a price range of $1,362.95 to $1,602.61, ETH/USD has seen significant volatility over the past 24 hours. While the overall market capitalization is trading around $181.33 billion, trading volume decreased by 14.18% to $17.13 billion, giving the market an 18.3% dominance.
Ethereum suffers a setback before the merger
Even after the recent confirmation of the move from the "Ethereum merger" to a consensus Proof-of-Stake (PoS) network in September, Ether (ETH) is down 11.5% in the last seven days.
Tim Beiko, a core Ethereum developer, suggested September 19 as a possible target date during the Ethereum core developer conference call on July 14.
Years have passed since the abandonment of power-intensive mining, and no date has yet been set for the transition to scalability using partitioning technology, which allows parallel processing. . However, other analysts predict that the monetary policy of the network will increase the value of Ether.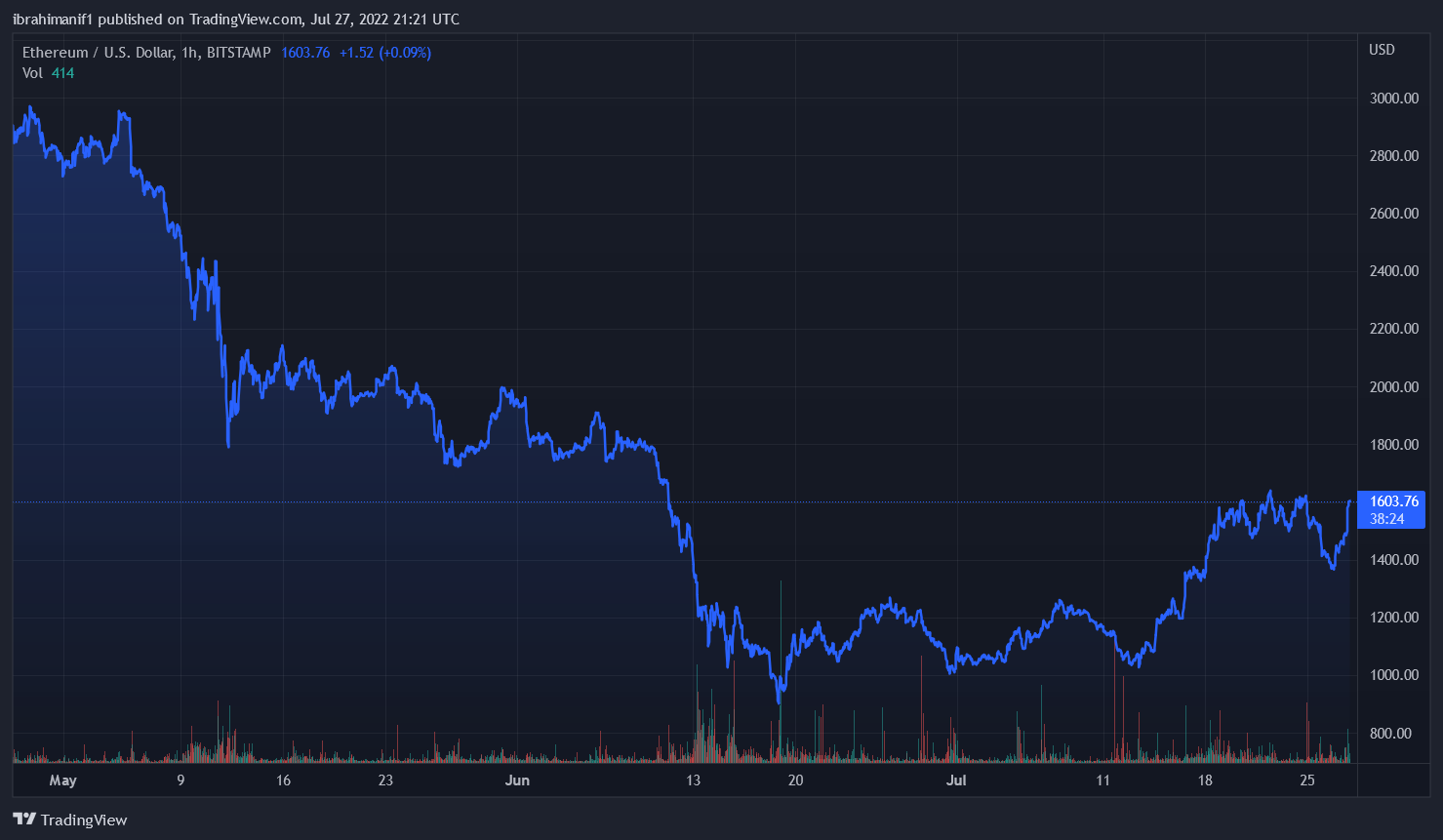 ETH/USD trades at $1,600. Source: TradingView
The "supply shock" effect was noted by Ethereum researcher Vivek Raman. According to the analyst, the "merger" will "reduce the total supply of ETH by 90%", even if there is now no reduction in transaction fees.
Related Reading | TA: Ethereum Recovery Faces Major Hurdle, Risks Further Decline Exits
The recent dramatic decline in Ether's price could be largely attributed to regulatory uncertainty. Yuga Labs is the target of a class action lawsuit for "inappropriately inducing" the public to purchase non-fungible tokens (NFTs) and the ApeCoin token (APE). The law firm further claims that Yuga Labs is "inflating the price" of BAYC NFTs and APE tokens by using celebrity endorsers and promoters.
Ghost fork extended
Another minor but significant step has been taken by Ethereum towards the merger and the much-anticipated shift from blockchain to proof-of-stake.
Ethereum's 10th phantom split, which was supposed to go live today, went live early yesterday, more than 26 hours in advance. Ghost forks are a targeted test of Fusion components; they simulate one or two particular blockchain changes that will take place in the future.
This is separate from full testnet hard forks, like the Sepolia testnet that happened earlier this month. The merge, which switches the entire Ethereum mainnet to a test environment network, is fully repeated on testnets.
Related Reading | Why Ethereum Classic (ETC) Topped the Crypto Market Last Week with a 16% Surge
This week's shadow fork served as a rehearsal for the releases that will take place on Ethereum's latest testnet, Goerli, on August 11. This test will be the third and last of its kind required before the merger is ready to go into effect.
Featured image from iStock Photo, charts from TradingView.com