The crypto market has moved back into the green with Ethereum (ETH) leading the recovery. The second crypto by market capitalization has seen bullish momentum following a possible full transition to a Proof-of-Stake (PoS) consensus. The date of this event was announced two days ago.
Related Reading | TA: Ethereum Surpasses Bitcoin, Why ETH Could Hit $1,500
This process will be completed by "The Merge", an event scheduled for September 19, 2022, with the aim of combining the execution layer of Ethereum with its consensus layer. ETH Core Developers completed this process on the network's main testnet.
As the uncertainty surrounding "The Merge" eases, crypto investors are growing increasingly optimistic. At the time of writing, Ethereum (ETH) is trading at $1,480 with a profit of 10% in the last 24 hours and a profit of 27% in the last week.
In the top 10 crypto by market capitalization, only the price of ETH registers such a rise. Bitcoin records a profit of 7% last week, while XRP and Solana record a profit of 12% and 15% over the same period.
Data from Material Indicators shows that the liquidity of the ETH/USDT trading pair tends to increase with the price of the cryptocurrency. When the price of ETH broke above $1,350, it was able to quickly move into the $1,400 area.
This suggests that $1,300 has moved from resistance to support, making it a key level for future price declines. As seen below, bids increased along with the price of ETH with over $7 million worth of buy orders at around $1,450, hinting at sustained bullish price action.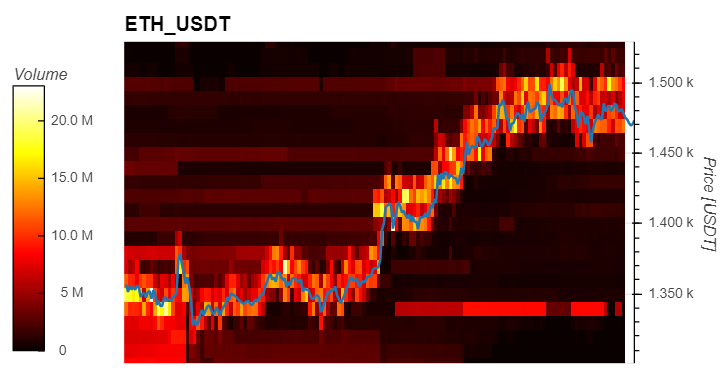 Analyst Ali Martinez thinks ETH printed a bullish four-hour candlestick when it broke below $1,300. At that point, the cryptocurrency broke with a multi-month consolidation gaining enough momentum to recover levels above $1,650.
The analyst believes that the price of ETH is heading towards this area with the potential to reach $1,670. The next area to watch if ETH sees a follow in this area is $1,700.
Why is $1,700 important for the price of Ethereum?
Additional Data provided by JarvisLabs hints at a significant shift in Ethereum market dynamics. The cryptocurrency saw a reversal in its 30-day returns, used to measure short-term profits and losses for crypto investors during this period.
This measure is trending towards 0% after having been in negative territory for several months. According to Jarvis Labs, a flip above 0% for Ethereum's 30D yields could present investors with a selling opportunity.
Related Reading | XRP must cross this key level to avoid the slowdown
In the past, and during a bear market, whenever 30D yields of ETH experienced a period of consolidation with a subsequent positive reversal in the metric, the cryptocurrency experienced severe crashes. Below is a chart of what happened to the price of ETH when it sees a similar performance, Jarvis Labs added:
If this fractal were to replay, all pumps up to the $1700 level would trigger selling for the next year. Conversely, a 1700 reversal from resistance to support would equal the summer 2020 reversal of around $350 and could signal the start of a whole new bull run.