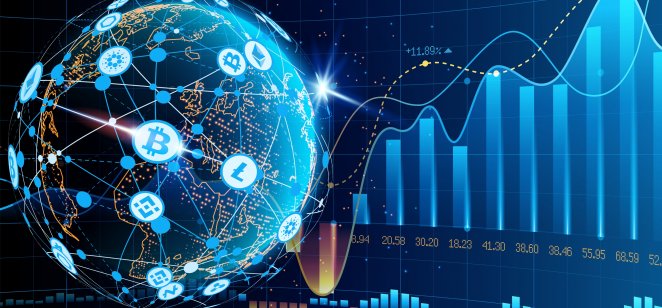 Environmental Cryptocurrency GroveToken's (GVR) the price jumped in the last two days after the project's managing director was appointed as the managing director of the first metaverse company owned by Dubai royalty.
GroveToken CEO John Ghemrawi has been appointed Managing Director of the new metaverse business in Dubai, which was owned by Sheikh Dubai Al Maktoum.
The news boosted sentiment for the project and supported some analysts' GroveToken price prediction. GroveToken price hit a high of $0.000000002686 on July 22, up 73% in the previous 24 hours, according to data from CoinMarketCap. The token was trading at $0.00000000012 when it launched in May on CoinMarketCap.com.
Would you like to know more about the GroveToken network and the prospects for this project? Read on for more analysis and a Grove crypto price prediction.
What is the GroveToken project?
Grove Token was launched on the Binance Smart Chain (BSC) in March 2022 by Dubai-based green investment firm Grove.
According to the project white paper: "GroveToken's vision is to become the world's number one green payment system (GGPS)."
The cryptocurrency project plans to reduce its environmental footprint by implementing a long-term "Green Plan," which "focuses on technology that will reduce emissions and create jobs."
Grove said it will contribute 3% of all transactions to token optimization and marketing, a portion of which will be invested in charitable donations that support environmental initiatives.
The investment company said it will reinvest part of the profits from the project into renewable energy, solar farming and hydroponics in the second quarter of this year. The company says "the first infrastructure zones will be in the United Arab Emirates, Australia and Canada." He did not reveal any further details.
As part of the project's green initiative, it will provide regular updates to all GroveToken holders on its environmental development progress.
Grove plans to launch cryptocurrency wallet GroveKeeper in the fourth quarter of this year and the GreenOasis cryptocurrency exchange in 2023-2024.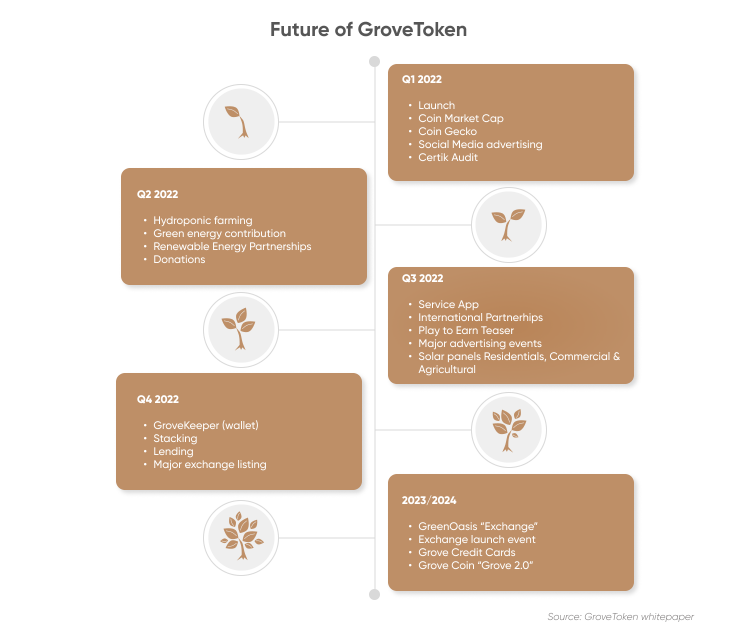 Reduced power consumption in crypto transactions
Many cryptocurrencies such as bitcoin (BTC) use a proof of work (PoW) consensus, which requires large amounts of energy and computing power to solve puzzles in blockchain technology to extract and validate transactions. This mining process led to an increase in electronic waste, as single-use application-specific integrated circuit (ASIC) machines were used to keep the blockchain running.
GroveToken plans to adopt a different architecture for its cryptocurrency to reduce power consumption and transaction costs.
According to the GroveToken whitepaper, the project aims to combine Proof of Authority (PoA) and Delegated Proof of Stake (DPoS) consensus for the validation of transactions on its network. PoA and DPoS consume less power than PoW because they don't require as much hardware for block generation and validation.
A PoA is a reputation-based consensus algorithm that was proposed in 2017 by ethereum (ETH) co-founder and former chief technology officer Gavin Wood. In this consensus, block validators are staking their own reputation instead of tokens to ensure the credibility of the network.
In a DPoS-based network, stakeholders can vote for third-party delegates, called witnesses, to secure the network on their behalf. These cookies are responsible for reaching consensus during the transaction process. Stakeholder voting power is proportional to each user's coin holdings, and rewards are usually shared proportionally among the parties. Cookies that do not perform their block generation and validation functions may be rejected.
Provision and Functions of GroveToken
The BEP-20 GroveToken (GVR) is a utility coin for use within the network. GVR token supply is capped at 100 quadrillion and 2% of trading volume will be burned.
????#GroveToken #GVR???? In the past 24 hours, a total of 36,822,256,354,016.10 #GVR tokens were burned worth (48,310 USD).????

— GroveTokenBurn (@GroveTokenBurn) July 20, 2022
According to Grove, token holders can stake their GVR coins under four different conditions with no deposit fees:
Term 1: 1% Overnight Withdrawal Fee

Term 2: 60 days 0.5% withdrawal fee

Term 3: 90 days 0.3% withdrawal fee

Term 4: 180 days 0% withdrawal fee
To secure the value and demand for the GVR token, Grove will use a portion of its profits for the "repurchase" of the cryptocurrency.
According CoinMarketCapthe coin is available for purchase and trading on the BitMart cryptocurrency exchange, XT.com, LBank, Hotbit, and PancakeSwap (V2).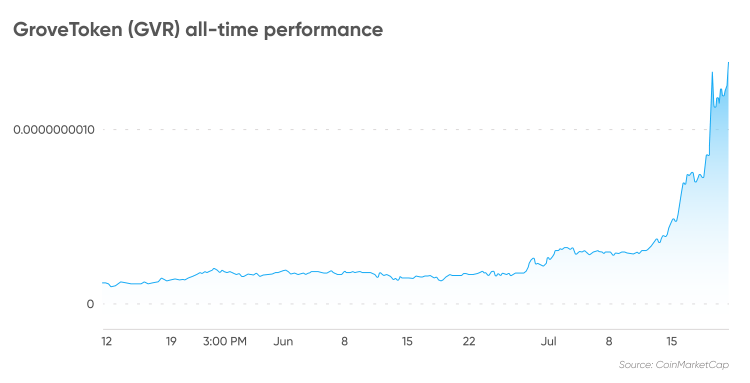 The team behind GroveToken
The founders of the project are John Ghemrawi, Richard Sultan, Mendy Parker and John Elmasri.
Of the four founders, Ghemrawi and Parker hold general manager positions in the company, the GroveToken website show.
Ghemrawi is the CEO and CFO of the project. His profile showed that he "has over five years of experience in the crypto world" and received a "Masters in Telecommunications Engineering". Ghemrawi has owned an Australian Harvey Norman retail franchise for over 11 years and continues in that role to this day.
Parker's profile indicated that she had more than 15 years of experience in executive management of marketing, research and development for several projects across the United States. Her profile did not reveal which companies she previously worked at.
The project manager is Carlo DC, who claims to be a business leader with over 30 years experience in retail operations.
The GroveToken website does not mention members of the technology team and developers.
Project risk profile
GroveToken's smart contract has been audited by a blockchain security expert Certikwhich revealed some flaws in the design of the project.
"We advise the customer to properly manage the private key of the privileged account to avoid any potential risk of hacking. In general, we strongly recommend that centralized privileges or roles in the protocol be enhanced through a decentralized mechanism or smart contract-based accounts with enhanced security practices, for example multi-signature wallets," Certik said.
The team acknowledged the results and said they would fix any issues found.
GroveToken Price Prediction
As GroveToken (GVR) is a relatively new project that was only launched in March this year, few analysts gave its GVR price prediction. However, the project has already attracted a community of 16,000 carriers.
Despite the high-risk nature of this new cryptocurrency project, several AI-based price prediction providers have held bullish price predictions for Grove coins.
Since July 22, Price prediction The Grove 2030 price prediction expected it to reach $0.00000001, estimating that the token could be worth $0 from 2022 to 2029.
According Crypto predictions' Grove Price Prediction 2022, the average price of GroveToken is expected to reach $0.00000000186765 by December this year. The data provider's Grove 2025 price prediction predicted that the average coin value would increase to $0.000000003531188 in December 2025, almost doubling from 2022.
Please note that analyst GroveToken price predictions may be wrong. Forecasts should not replace your own research. Always do your own due diligence before trading. And never trade money you can't afford to lose.
FAQs
Is GroveToken a good investment?

Whether or not GroveToken is a good investment for you will depend on your trading goals and the composition of your portfolio. Cryptocurrency is an extremely risky investment. You should do your own research. And never trade what you can't afford to lose.
Will Grove go up or down?

No one can say for sure. The analysts' price prediction for GroveToken was bullish in the medium to long term (as of July 21), with Price prediction and Crypto predictions expecting higher prices in 2022-2030. However, the price targets were significantly lower than the $1
Should I invest in GroveToken?

Only you can decide if you should invest in GroveToken or not. This will depend on your investment goals, risk tolerance and portfolio composition. You should always conduct your own research. And never invest money you can't afford to lose.
Further reading: