Liverpool FC, a professional football club based in Liverpool, England, has successfully launched its digital currency to allow its fans to purchase non-fungible token players. Liverpool intends to use Fan Tokens to bring fans closer to their favorite club and athletes.
In a July 25 press release, the English Premier League football club announced the successful launch of its digital currency dubbed $LFC. The new fan token will allow sports fans to purchase NFT readers, among other features.
Liverpool FC Fan Token Overview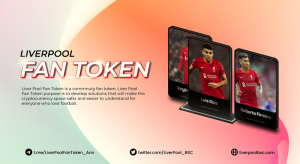 By description, Fan Tokens are the form of a team pass. Unlike other subscriptions, Fan Tokens do not expire. Sports fans can use their fan tokens to acquire non-fungible token avatars and list them on other digital asset exchanges.
Liverpool have launched an exclusive limited collection of 6,000 unique NFTs. These digital collectibles will give holders exclusive access to the game as each NFT will represent a playable "avatar" character in the club.
The newly launched fan token will implement a staking product so that $LFC holders can earn passive profits with high APY. The staking protocol pool will include LFC, LFC/BNB and LFC/BUSD.

Liverpool also offers BSC-based tokens and a verifiable contract address on BSC scan. The BSC dual-chain architecture will allow users to create the decentralized application and digital assets on the blockchain.
The newly launched digital currency will also serve as a community fan token, giving users the right to control the direction of an NFT player in Liverpool. Users will integrate their digital assets with other decentralized exchanges and enjoy increased privacy.
However, Liverpool fan tokens come with 5% purchase tax and 5% sales tax. This tax will come back on the marketing and redemption of $LFC tokens. Interestingly, the Liverpool fan token scores 100/100 on the sniffer index because it has no dangerous functions hidden in its source.
Liverpool plans to leverage its new digital currency ($LFC) to bring fans closer to their favorite players while generating revenue in other non-fungible digital token markets.
Related
Battle Infinity – New Crypto Presale
Presale until October 2022 – 16500 BNB Hard Cap
First Fantasy Sports metaverse game
Play to Earn Utility – IBAT Token
Powered by Unreal Engine
CoinSniper Verified, Strong Proof Verified
Battleinfinity.io roadmap and whitepaper