Dogecoin has been able to stay true to its reputation of being a memecoin for quite some time now. However, in the recent scenario, from a macro perspective, Dogecoin's performance has continually disappointed its investors.
Enthusiasts, as well as long-term investors, seem to have lost patience with cryptocurrency for some time now. To prove a testament to this sentiment, according to Ahrefs, "should I sell my Dogecoin?" is typed into Google at least 2,900 times in a month.
So should you really sell your Dogecoin in such a scenario? Also, where does Dogecoin fit in the middle of all this? Will it be able to sustain the emergence of new meme coins and keep investors excited? We will find out.
Why are investors ready to sell their Dogecoin?
Dogecoin has seen major spikes, with prices rising 216% in January 2021. Tweets by Tesla co-founder Elon Musk have also given the cryptocurrency some popularity among new investors and a sense of confidence for long-term investors.
But when it comes to fundamentals, there are some glaring issues that are causing investors to consider selling the cryptocurrency for the better. Here are some issues that might lead people to consider selling their Dogecoin.
Lack of real-world utility
Cryptocurrency has grown in popularity by becoming part of pop culture and gaining popularity as an internet sensation overnight. Hence, lacking in real-world utility to some degree.
While the founders of Dogecoin created Doge as a payment network, things could not take shape as a result. The overall acceptance and usefulness of cryptocurrency has not yet been so high.
Unlimited supply
Dogecoin started with a total supply of 100 billion coins. However, to date it stands at 133 billion coins. On the other hand, what makes Bitcoin unique is its finite supply of 21 million.
This beats the basic concept of economics. Since there is no shortage of Dogecoin, this somewhat impacts its value in investor circles. In short, the more Doge in circulation, the less valuable it is, and that's what has happened so far.
A speculative asset
Dogecoin is a speculative asset. The currency has seen very volatile bouts of spikes and dips.
It is not the usefulness of cryptocurrency that makes people buy it, but rather the hopes that the price of cryptocurrency will rise, witnessing a major spike. However, when it comes to the fundamentals of cryptocurrency, this is not something that investors consider very much.
BitcoinDoge's story has made people trust him for the long term, however, Doge has not yet been able to command that authority and goodwill.

Exorbitant market capitalization
According to CoinMarketCap, Dogecoin currently has a market capitalization of $8 billion, making it the Top 10 Cryptocurrencies with the highest market capitalization.
With growing "sell" sentiment among older investors, it doesn't seem prudent to buy Doge at this time. Moreover, investors who bought Doge when it had not yet exploded are already selling their investments.
It makes more sense to opt for cryptocurrencies with a lower market capitalization at the moment, for example, tamadoge (TAMA). The best cryptocurrencies tend to be those that can be bought during an initial coin offering or a low-valuation presale round.
Selling Dogecoin: Should You Go Now?
When it comes to selling Dogecoin investments, there are a few things investors should consider.
Selling Doge investments at the current time frame, even if the coin is at a loss, makes more sense if investors plan to invest it in another altcoin, with a relatively lower market capitalization, such as tamadoge. It might even be the quickest way to recoup losses from his Doge investments.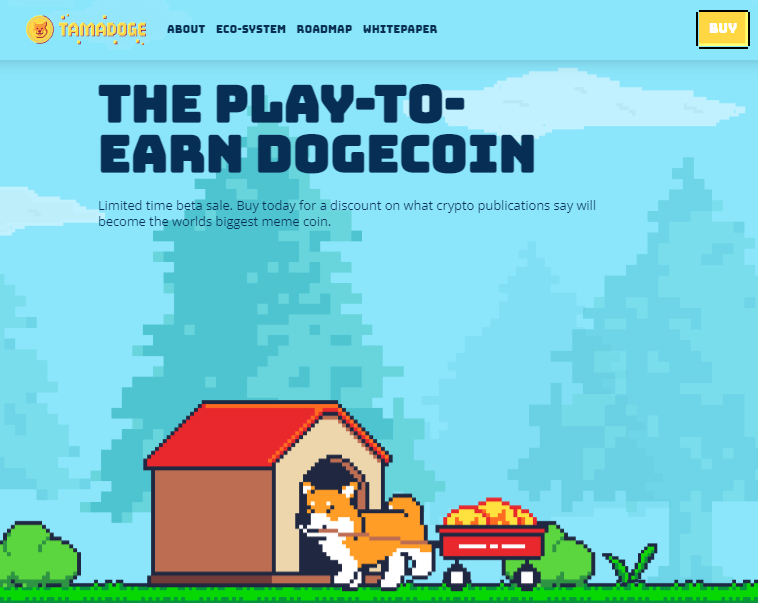 However, investors should conduct their own due diligence and research into a cryptocurrency's overall potential and investment strategy before making a buying or selling decision.
Conclusion: Sell Doge and Invest in Other Coins Meme
When it comes to investing in meme coins, it tends to work best when they enter their non-popular phase.
Once meme coins reach cult popularity, investing in them becomes a hassle rather than a viable investment. With most meme pieces having relatively less utility and capitalizing on their virality, it feels a bit like a social media trend.
The FOMO that invests in meme coins tends to have a negative outcome rather than an exponential outcome. With future Doge charts looking rather bearish, this poses a threat. However, what creates a sense of optimism is that the cryptocurrency has been able to stay relevant by remaining in the "Top 10" charts for coin market capitalization.
Read more-
Battle Infinity – New Crypto Presale
Presale until October 2022 – 16500 BNB Hard Cap
First Fantasy Sports metaverse game
Play to Earn Utility – IBAT Token
Powered by Unreal Engine
CoinSniper Verified, Strong Proof Verified
Battleinfinity.io roadmap and whitepaper