Solana Price Prediction – July 28
It appears that the Solana market is trading weak against the market value of the US dollar. The price of the crypto is trading around $40 at an average minimum percentage rate of negative 0.40. During yesterday's trading, the price recorded a low of $35.76 and a high of $40.38.
Solana's stats (SOL):
SOL price now – $40.85
SOL Market Cap – $14 billion
SOL Circulating Supply – 346 million
Total supply of SOL – 511.6 million
Coinmarketcap Ranking – #9
SOL/USD market
Key levels:
Resistance levels: $50, $55, $60
Support Levels: $25, $20, $15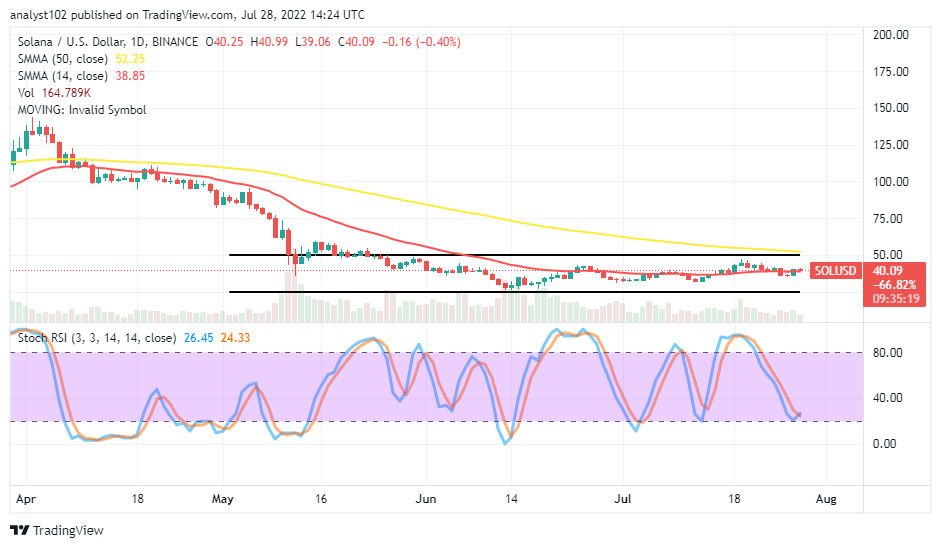 SOL/USD – Daily Chart
The daily chart reveals that crypto prices are trading weak sideways in the $25 and $50 boundary areas. The 50-day SMA indicator is at $52.25, near the upper range line drawn, and the 14-day SMA trading indicator is below them at the $38.85 level. The Stochastic Oscillators moved south towards the 20 range, trying to move back north from the range point. Expectations are gradually rising to suggest that the price is taking its time to take another direction.
Can there be a break at the upper level of the $50 resistance in the SOL/USD market soon?
The SOL/USD Market Trading Pace currently poses only a promising upside outlook in the $25 and $50 boundary areas. And the price may not sustainably break out at the upper level of the range as the crypto trades weakly sideways. Long position takers should use a 1-hour or 4-hour time frame to decide on an appropriate time frame to determine when to enter a buy order at a lower trading point that should be supported by price action.
On the downside of the technical analysis, the upper value line of the $50 range will be the main area of ​​resistance where selling activity will decently track. Contrary to this technical assumption, positional reading of the Stochastic Oscillators in an overbought region without the market pushing north to the value line can result in a rapid resumption of downtrend strength in areas delimited by the fork.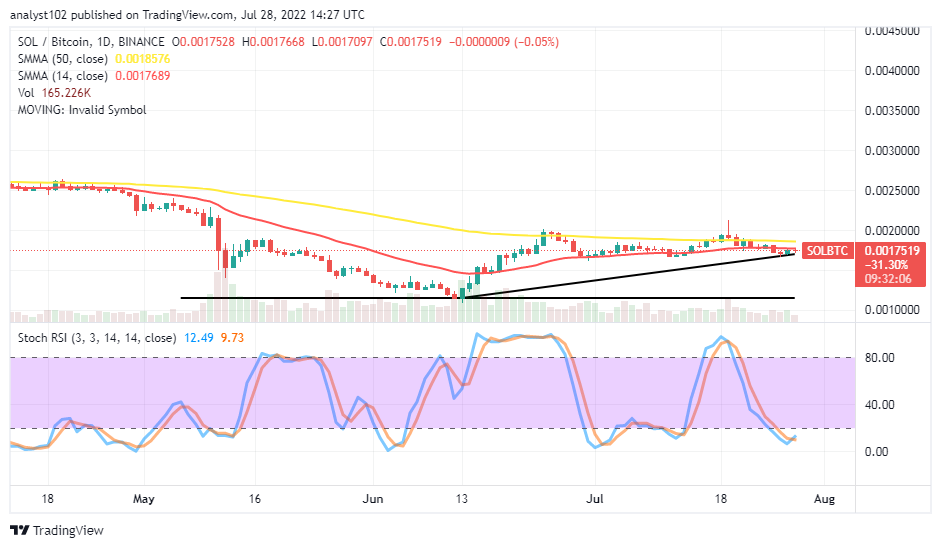 SOL/BTC price analysis
In comparison, the first instance shows Solana is a bit stronger against Bitcoin's push ability in the market. Second, the cryptocurrency pair is trading weakly around the SMA trendline. The 14-day SMA indicator is found below the 50-day SMA indicator. The uptrend line drawn to mark the point showing where downside strength tends to break down near the smaller SMA. The Stochastic Oscillators are in the oversold region, seemingly trying to cross the lines to the north to show that the base crypto has not given up on its counter-trade crypto.

Battle Infinity – New Crypto Presale
Presale until October 2022 – 16500 BNB Hard Cap
First Fantasy Sports metaverse game
Play to Earn Utility – IBAT Token
Powered by Unreal Engine
CoinSniper Verified, Strong Proof Verified
Battleinfinity.io roadmap and whitepaper
Read more: