Synthetix SNX coin failed to sustain its upward rally, losing some traction and falling around the $2.85 level. Most coin and token prices rose, indicating that the cryptocurrency market had a net positive week. Following the recent rallies of major cryptocurrencies and tokens, the market capitalization has exceeded $1 trillion. As a result, the value of the native token of the Synthetix ecosystem, SNX, fell by more than 15% after surging by more than 30% last week.
Basic Principles Impacting Synthetix SNX Price
Over the past week, SNX's gains could be attributed to Synthetix's announcement that it is renewing its partnership with Jump Crypto. The gains, however, failed to materialize this week as the Federal Reserve prepares to raise its key rates to fight inflation.
The continued decline in BTC prices demonstrates this. As the new week begins, Bitcoin (BTC) is sending mixed signals ahead of another major monetary policy decision in the United States. However, the decline in BTC prices is having a negative impact on all other crypto coins, including the Synthetix SNX coin.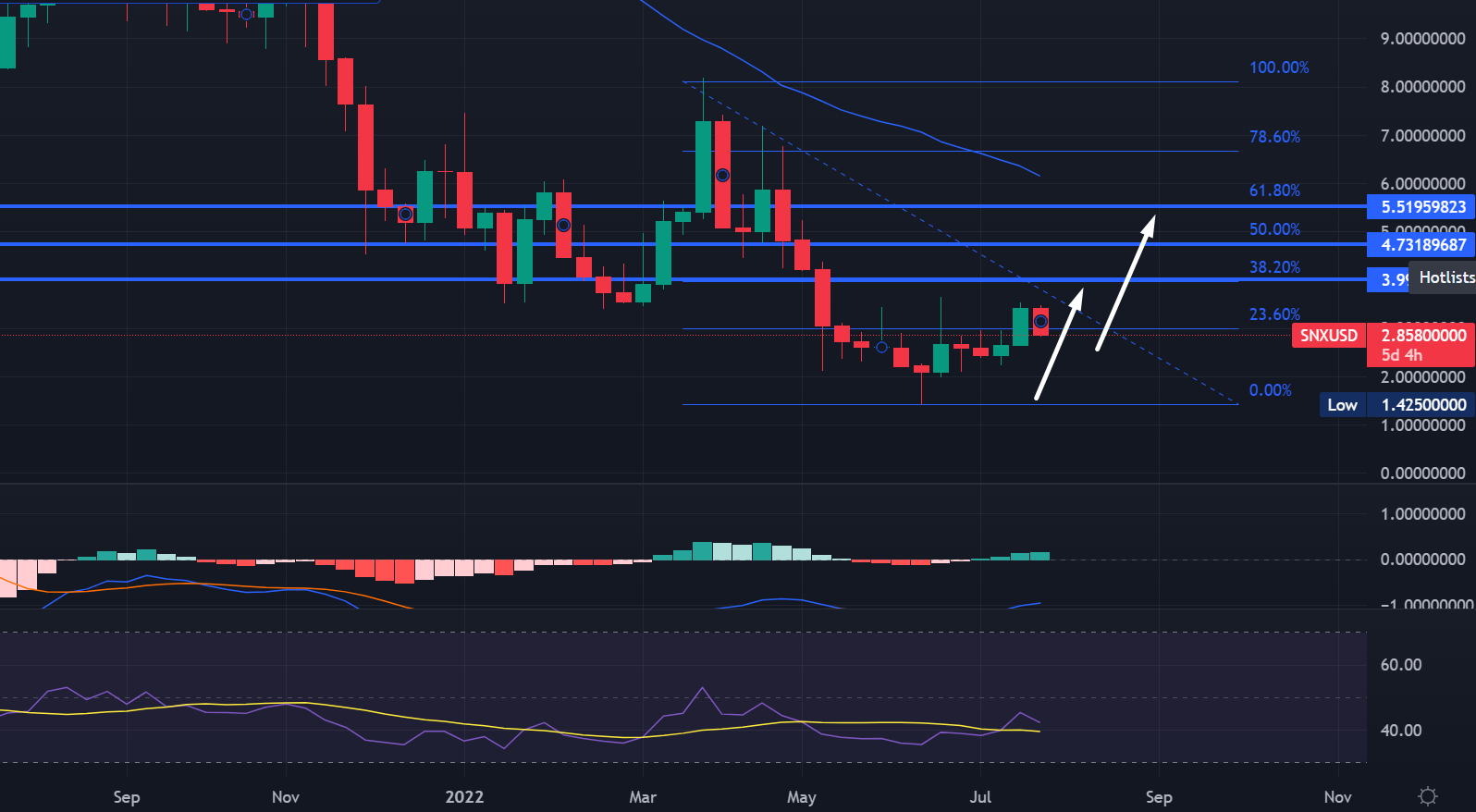 Synthetix is ​​trading at $2.84 with a 24-hour trading volume of $85 million. Over the past 24 hours, the SNX has fallen by 8.83%.
Synthetix Partnership with Jump Crypto
Synthetix's price gains the previous week were mainly due to reports that Synthetix had renewed its partnership with Jump Crypto. According to the Synthetix team, Jump Crypto's expertise in data-driven trading and liquidity provisioning will help it achieve its goal. Synthetix's goal is to become the foundation of on-chain derivatives liquidity.

Jump Crypto and Synthetix DAO are thrilled to announce their expanded partnership, according to the tags. Synthetix prices increased following this news.
Crypto Bear Market – FOMC Meeting Approaches
Despite the positive performance of the previous week, the cryptocurrency market could not sustain it this week and lost its positive momentum ahead of another major US monetary policy announcement.
The cryptocurrency market as a whole had a successful previous week. Following the recent rallies of major cryptocurrencies and tokens, the market cap has passed the $1 trillion mark. However, the most recent bearish wave in the crypto market has put pressure on all cryptocurrencies. This can be seen after Bitcoin, the largest crypto coin in the world, started to fall again. Bitcoin is down and still at risk of falling below $21,800.
As we all know, the Federal Reserve's interest rate hike is the most important news of the week. However, the Federal Open Markets Committee (FOMC) will decide the extent of the interest rate hike on July 26-27. We expect it to be 75 or 100 basis points. The interest rate decision is scheduled for July 27 at 2:00 p.m. EST, which could lead to increased volatility in risky markets.
Read more:
Battle Infinity – New Crypto Presale
Presale until October 2022 – 16500 BNB Hard Cap
First Fantasy Sports metaverse game
Play to Earn Utility – IBAT Token
Powered by Unreal Engine
CoinSniper Verified, Strong Proof Verified
Battleinfinity.io roadmap and whitepaper