Many cryptocurrencies have made marginal to massive gains as the crypto market slowly stabilizes. These contain metaverse, utility, DeFi, and NFT crypto assets that have generated profits due to their well-established use cases. This article takes a look at these top 7 crypto earners this week.
Lucky Block (LBLOCK): Topped the Crypto Charts with a 67.47% Rise
The biggest winner of this is LBLOCK – the native crypto of an NFT competition platform. Crypto NFT has attracted a large audience through fair and unique competitions – allowing players to win prizes ranging from $1 million in bitcoins and BAYC NFT to a Lamborghini.
– Lucky Block (@luckyblockcoin) July 31, 2022
Lucky Block is an NFT competitions platform that allows users to participate in raffle events. Users can purchase NFT Platinum High Rollers Club to gain lifetime access to these events. However, Lucky Block follows the principles of inclusivity – allowing users to purchase a certain number of LBLOCK tokens to participate.
Due to these factors, Lucky Block has skyrocketed since its launch in 2022. In addition to amassing over 50,000 subscribers in a short time, LBLOCK has also become the fastest crypto to reach a market capitalization of 1 billion dollars. Many experts have called it "one of the best crypto assets of this year", in part because it lives up to its advertised quote, "Everyone is a winner".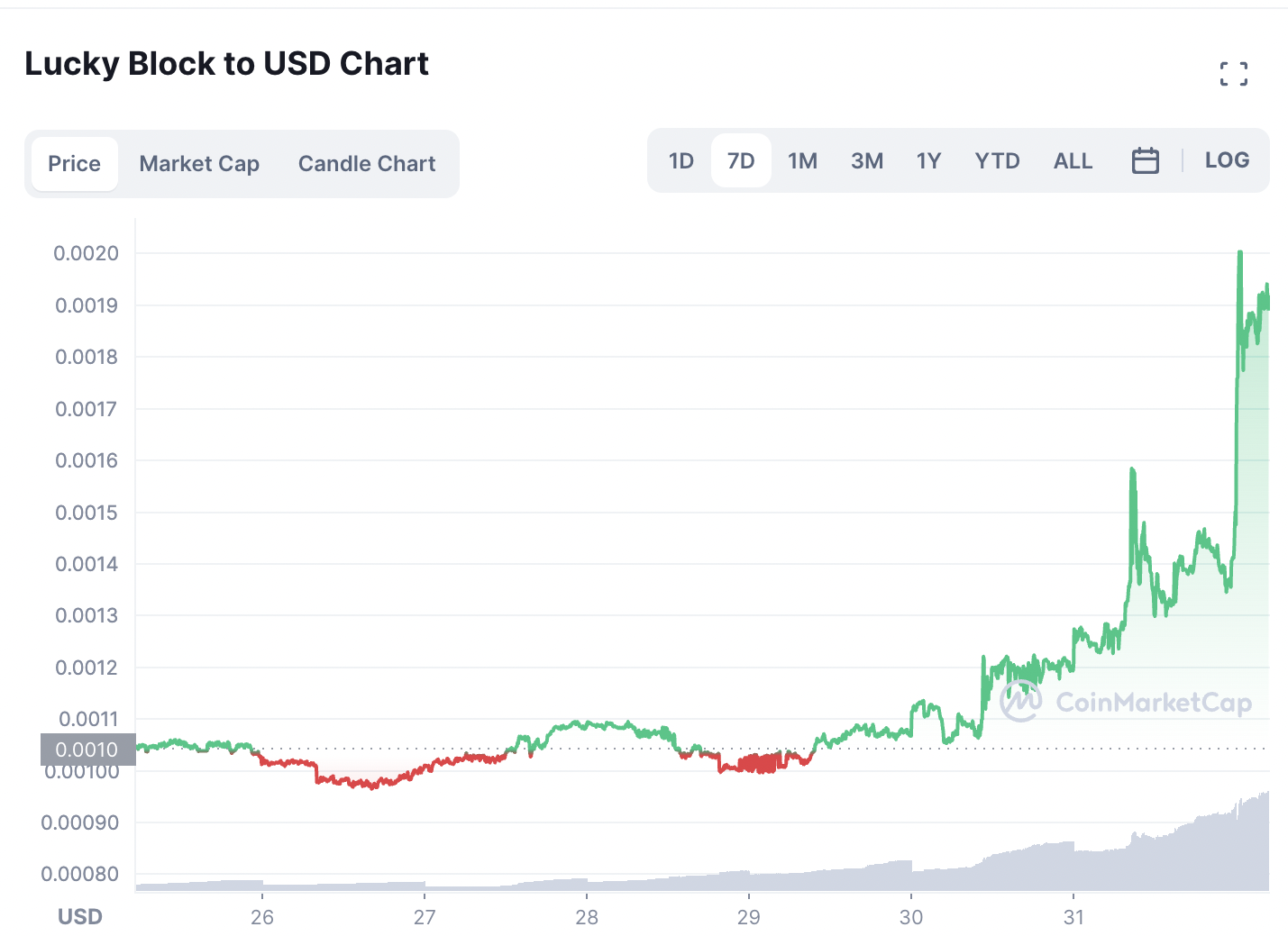 The cryptocurrency has seen several strong rises this week – breaking above the $0.015 mark before correcting and rebounding thereafter. At the time of writing, Lucky Block is trading at $0.019.
Filecoin (FIL): Crypto Utility Soared Nearly 100%
Experts say 2022 is the year of utility crypto assets. Filecoin is loyal to it. After moving sideways in a respectable $5-6 range, the utility cryptocurrency rose sharply to $11 before seeing a minor comeback.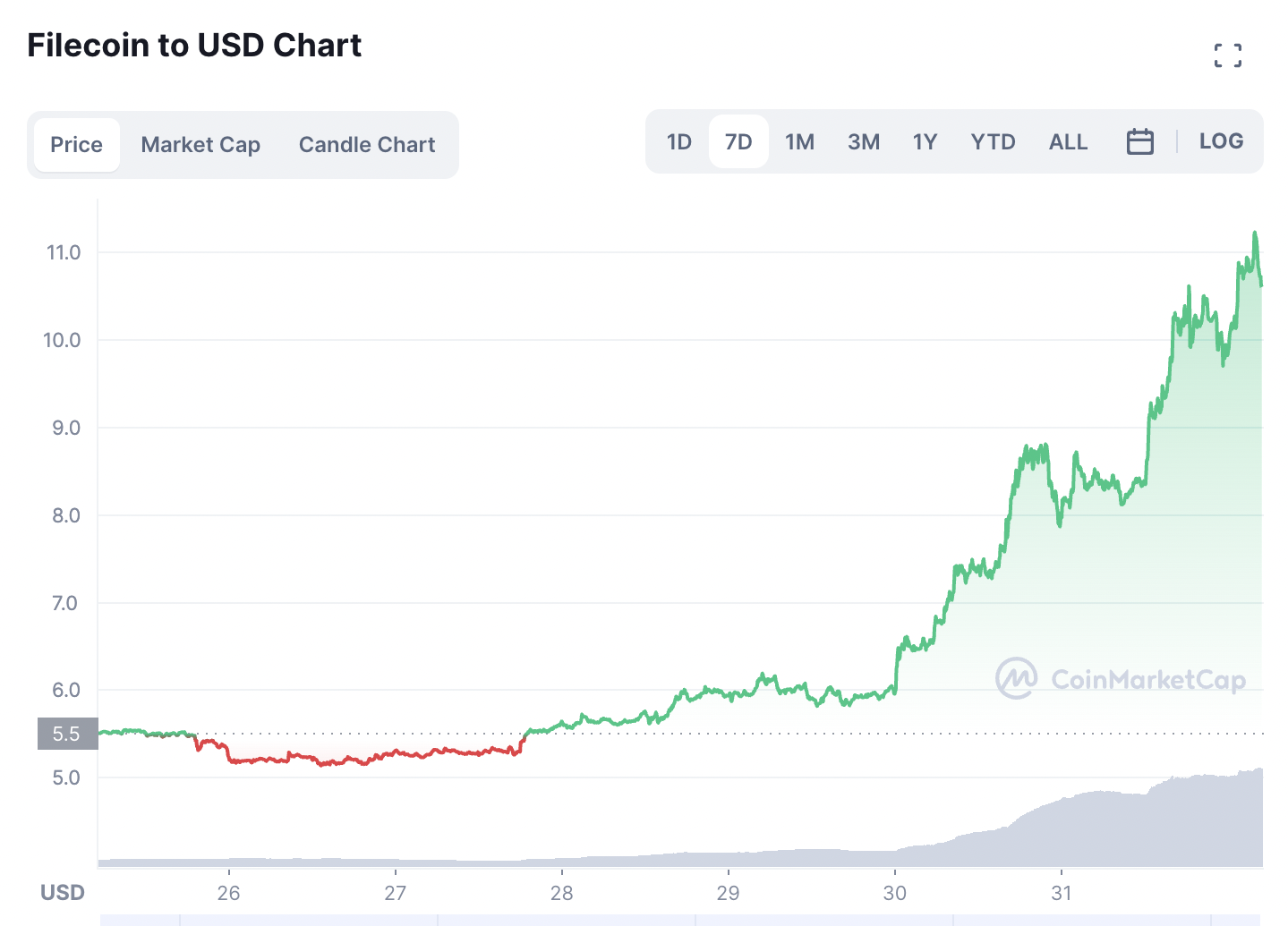 Filecoin is a decentralized storage protocol for NFTs. The developers advertised it as a system that stores "humanity's most important information". The project was launched in 2017, followed by an ICO that raised over $205 million.
Launched by Juan Benet, creator of the interplanetary file system, Filecoin is inspired by cloud storage systems. But instead of relying on a centralized body, it takes a decentralized approach to ensure that the data remains under the control of the data owner. In addition to this functionality, two consensuses ensure the security of this network: application proof and space-time proof.
At the time of writing, Filecoin is trading at $10.61, with a 24-hour trading volume of $2.1 billion.
Your capital is at risk
Fetch.ai (FET) has steadily climbed over 20% in a week
Fetch.ai (FET) is a decentralized machine learning platform providing users with access to blockchain-based AI in the form of secure datasets. It is essentially a framework that supports billions of IoT (Internet of Things) devices by establishing transparent, automated, and secure communication between them using autonomous agents.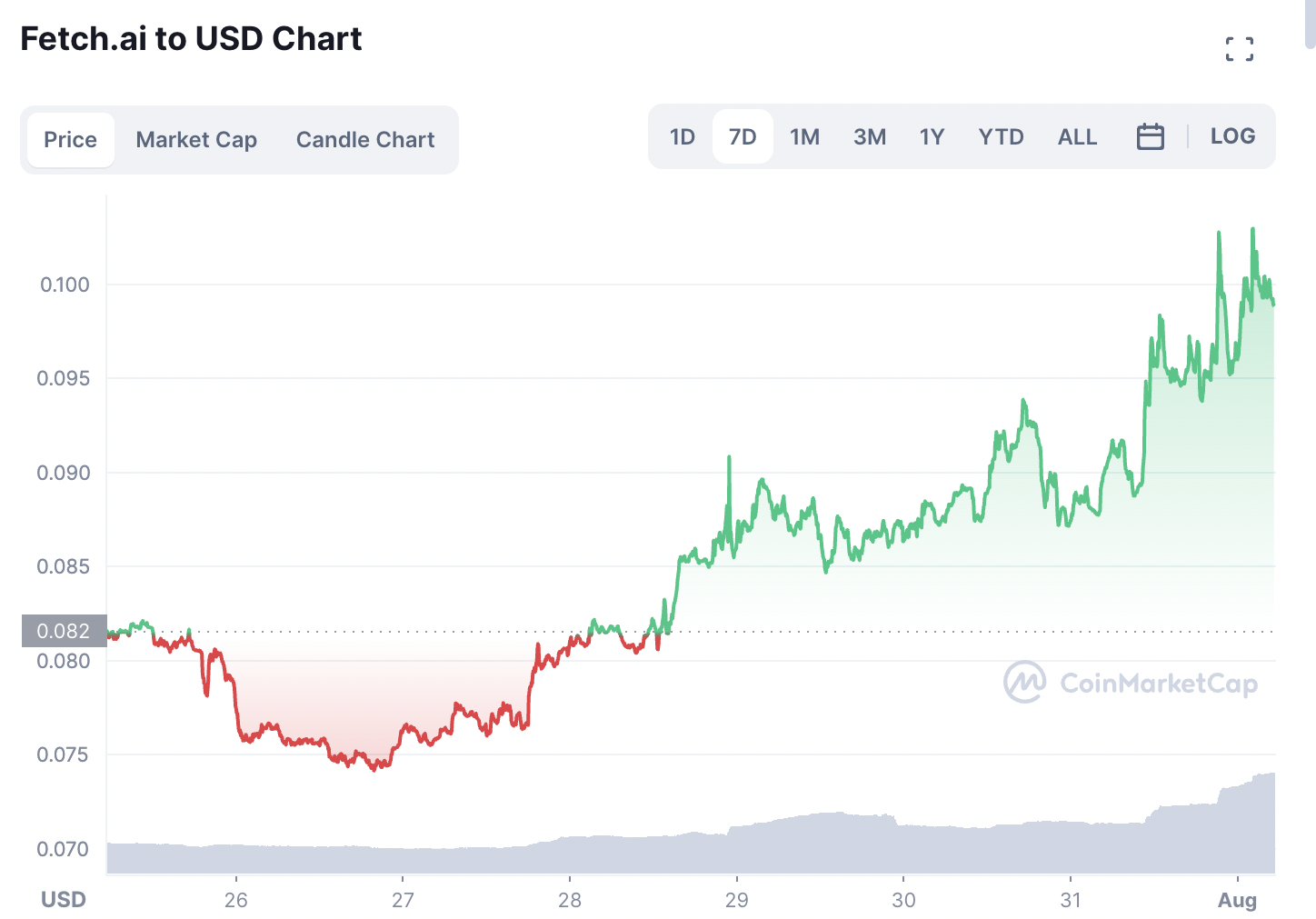 The utility crypto has climbed 20% in the price charts this week. At the time of writing, it is trading at $0.9847.
FET established this sudden uptrend in part due to bullish developments over the past week, including the Governance Notification Tool V2. The core team also got into merchandising with the release of the FetchBot t-shirt.
You can now receive notifications when new governance proposals are launched on the Fetch-ai network when you sign up for this service. Plus, you can even vote on proposals from their dashboard!

It's a really cool tool! Please include us @kalpa_tech 👊 https://t.co/NWgo0j71I4

— Fetch.ai network (@Fetch_ai) July 30, 2022
Unlike the other crypto assets on this list, the price of FET did not jump suddenly – it followed a steady upward trend – signaling that it may follow the same trajectory down the road.
Your capital is at risk

DYDX: Dex Token increased by 35%
DYDX is a dex cryptocurrency. That is, it is the native cryptography of the layer 2 blockchain of the non-custodial decentralized exchange of the same name. Simply put, it leverages Layer 2 and is used by liquidity providers, merchants, and partners to vote on its future developments.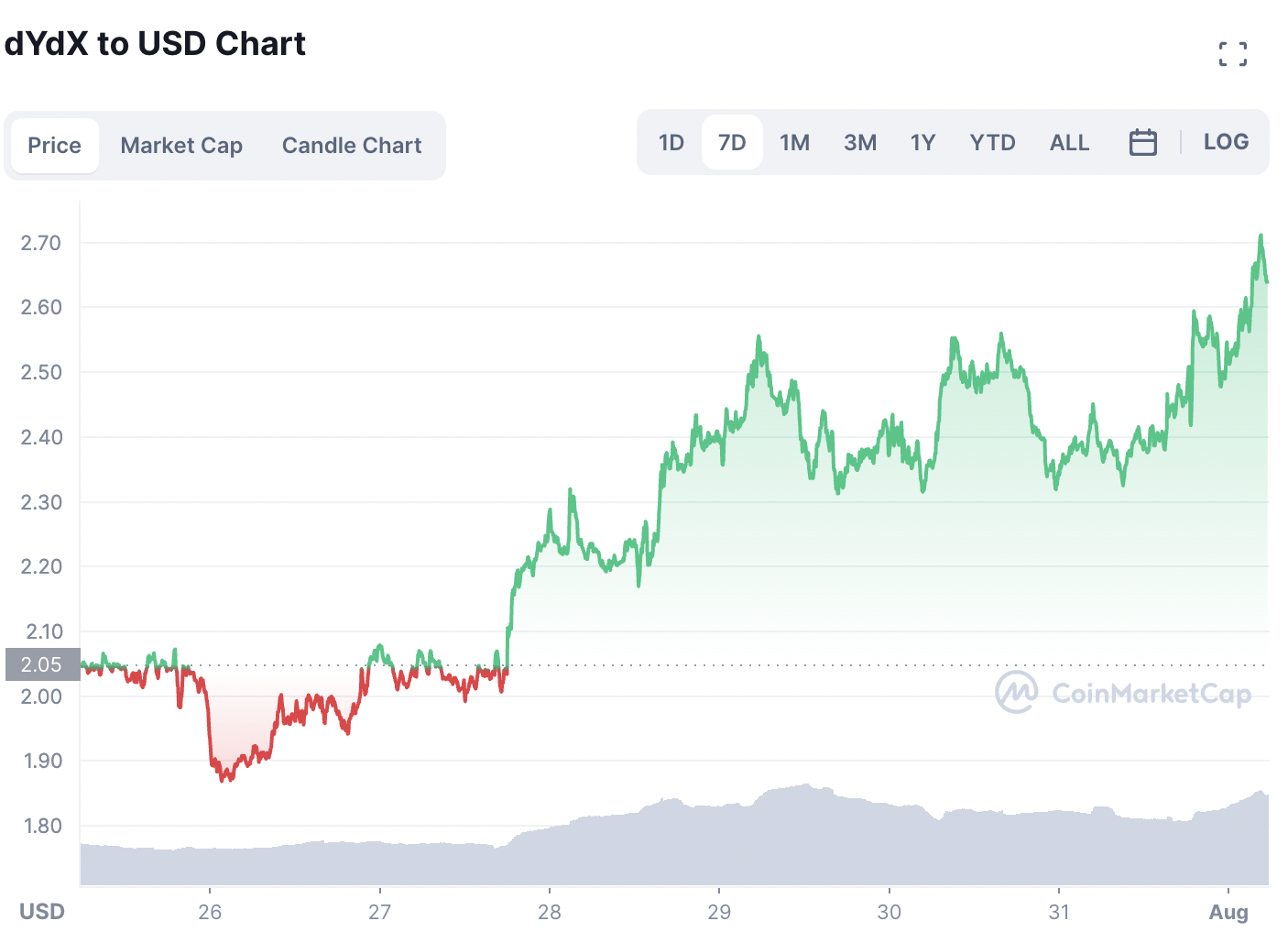 DYDX is another crypto utility on our list to get a double digit boost. It started at $2.05 at the start of the week and fell to $1.90 the next day. It rebounded soon after – establishing an uptrend and hitting $2.70 at the time of writing.
Your capital is at risk
SKALE Network (SKL) grew by 20%
SKALE is an elastic network designed to add scalability to Ethereum and increase transaction speeds. At the heart of this network is its native crypto SKL, the native cryptocurrency used for governance and security.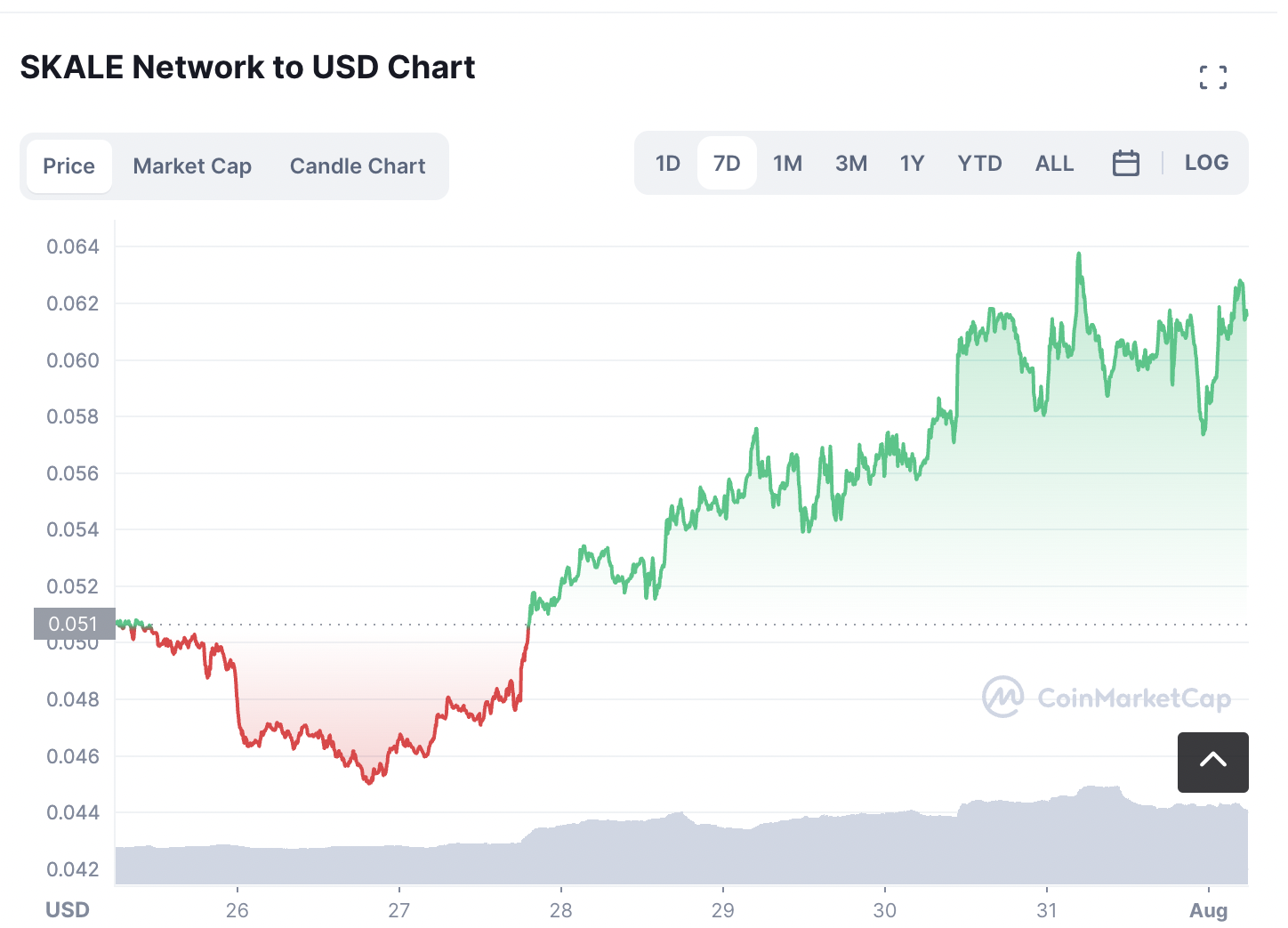 SKL opened at $0.051 before trading sideways. It then saw a sharp decline to $0.045 before bouncing back and establishing an uptrend. At the time of writing, the token is trading near $0.060.
Your capital is at risk
MyNeighborAlice (ALICE) grew 35% in one week
Gaming cryptocurrencies have done well during the bear market thanks to unique game-to-win mechanics. MyNeighborAlice (ALICE), the native cryptocurrency of My Neighbor Alice, a play-to-earn blockchain game similar to Animal Crossing, follows this trend. In this game, players can own land, farm, do quests, and earn rewards. The game does not follow the standard "idle" approach of blockchain games, but rather chooses to provide players with excellent gameplay and an underlying DeFi mechanic.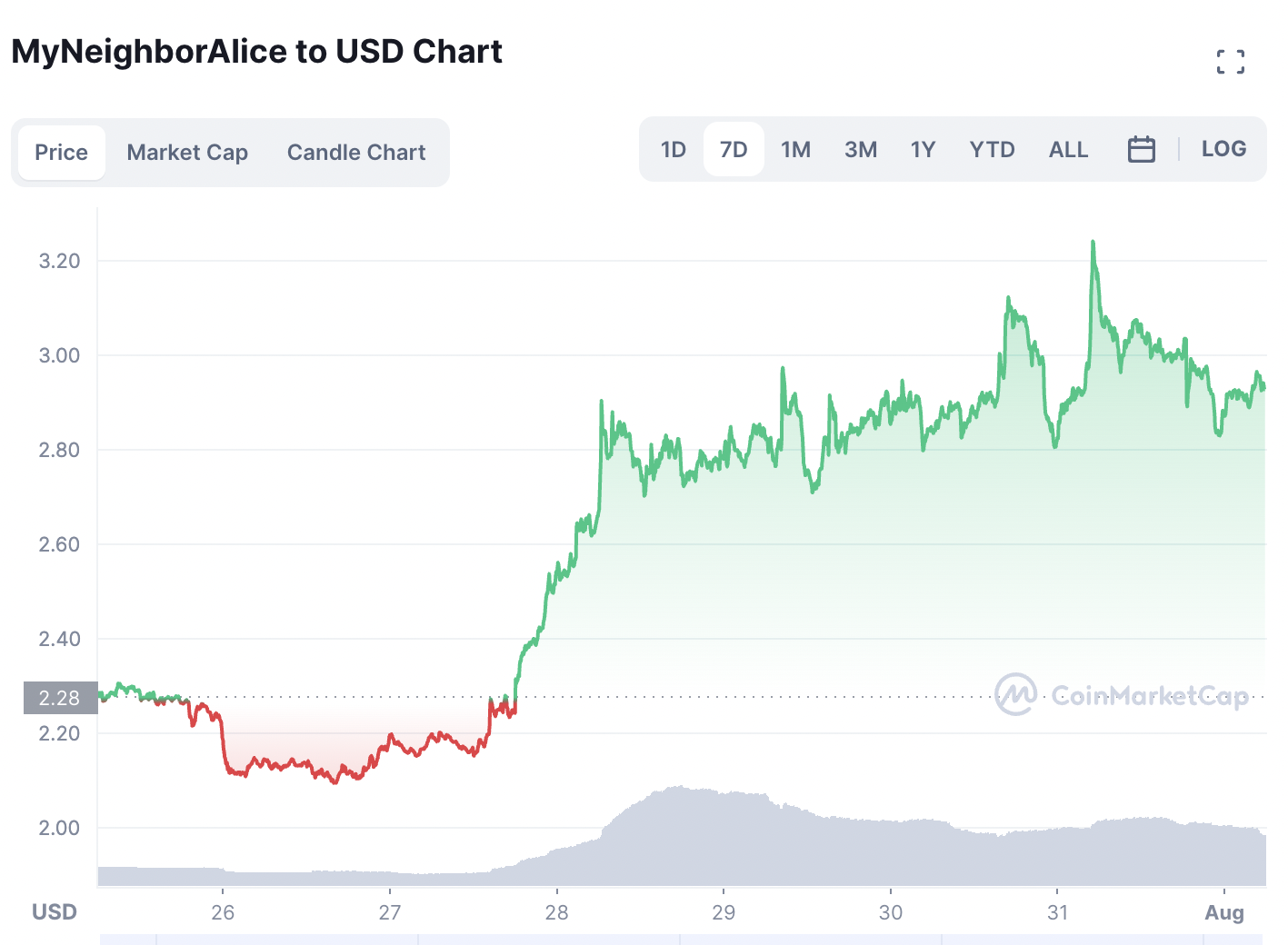 ALICE opened at $2.28 earlier in the week before seeing a sharp comeback. It trended sideways before rising steadily to reach $2.93 at the time of writing, an increase of 35%.
Your capital is at risk
Ankr saw a 10% increase
Ankr is a decentralized blockchain infrastructure provider supporting over 50 proof-of-stake networks. It also offers developers a full suite of tools to create Web3 applications.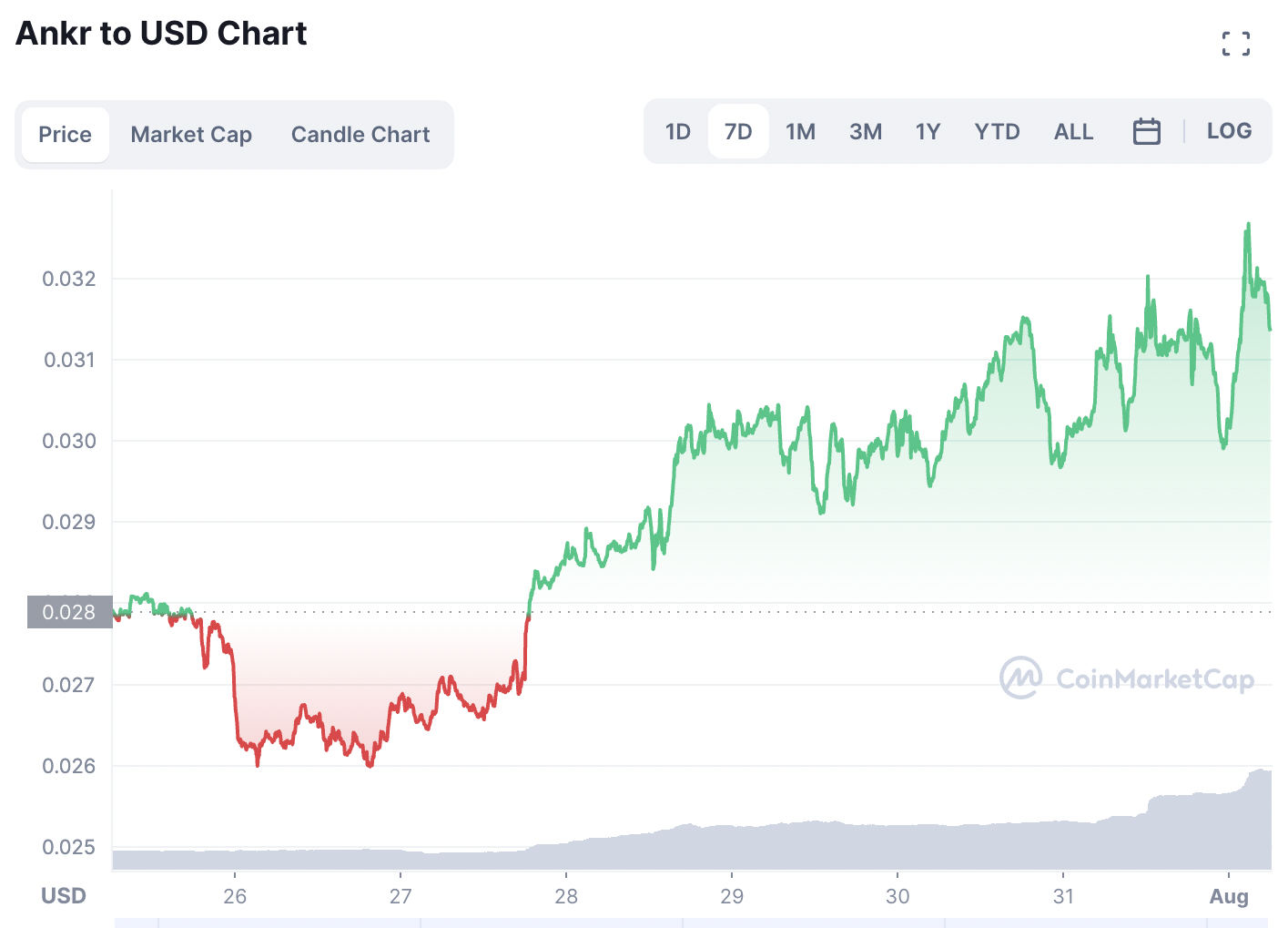 Ankr opened at 0.028 last week and, like other listed assets, fell sharply before establishing sideways trading. At the end of July 27, 2022, the price of Ankr started to climb in short bursts. At time of writing. Ankr is trading at $0.031, an increase of almost 10% from last week.
Your capital is at risk
Conclusion
Many crypto assets saw massive gains this week. Is this a sign that we are on the road to recovery? Or does that mean people are more interested in crypto with proper utilities behind them?
Whatever the answer, these trends establish an interesting fact: 2022 has opened consumer eyes to cryptocurrencies with better use cases and better rewards. Developers need to be careful and plan accordingly.
Read more
Battle Infinity – New Crypto Presale
Presale until October 2022 – 16500 BNB Hard Cap
First Fantasy Sports metaverse game
Play to Earn Utility – IBAT Token
Powered by Unreal Engine
CoinSniper Verified, Strong Proof Verified
Battleinfinity.io roadmap and whitepaper