Patents are filed in connection with metaverse innovations. And the usual suspects came back to lead everyone again.
Just when we thought Web3 would save us AGAIN from the total domination of big tech, it seems they are fighting back to control the next incarnation of the Internet.
A recent study by a patent data analysis company IFI complaints and IALE Technology revealed which company was patenting which innovation. Such innovations and inventions will presumably lead the future metaverse.
Metaverse colonization by Big Tech
The colonization of metaverse began. According to IFI Claims, "The Metaverse is a proposed integrated network of 3D virtual reality worlds, an immersive space that is expected to become the next great era of the Internet. Why is this important? Because it opens up avenues for the expansion of social media, commerce, entertainment and a range of industries and experiences in a whole new way.
Mike Baycroft is the CEO of IFI Claims. "Patents are one of the strongest predictors of frontrunners in any race for new technologies."
The report indicates that metaverse innovation is on the rise. "Over the past five years, patent applications and grants containing concepts related to the metaverse have multiplied as companies compete for their place on this new stage. The patent applications include everything from hardware and software designed to represent real objects in a virtual world to 3D projections without using glasses to recognize human behavior.
There's even a patent for the shoes: Nike's CryptoKick sneakers use blockchain to connect the IRL shoe to the digital representation of the shoe in the metaverse (worn by the owner's digital twin).
Enric Escorsa is the CEO of IALE Tecnología. "Our analysis revealed that over the past five years, metaverse-related patent applications have doubled to more than 2,000 across 842 companies, research centers, universities and individual applicants, spanning hardware and software in a range of technology."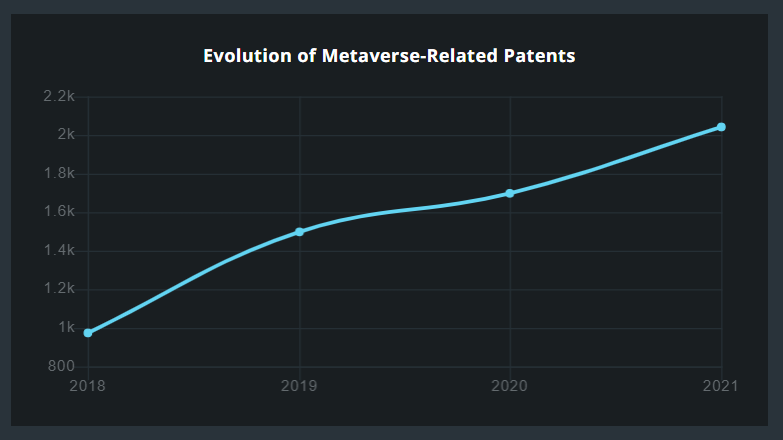 Microsoft Technology Licensing LLC (158 patents)
Samsung Electronics Co Ltd (122)
MagicLeap Inc. (109)
IBM Corp (71)
Disney Enterprises Inc (40)
Facebook Technologies LLC (38)
Adobe Inc. (31)
Verizon Inc Patents and Licenses (30)
Intel Corporation (27)
Snap Inc (27)
The only rather unknown entity in there is Magic Leap Inc. No, I haven't heard of that either.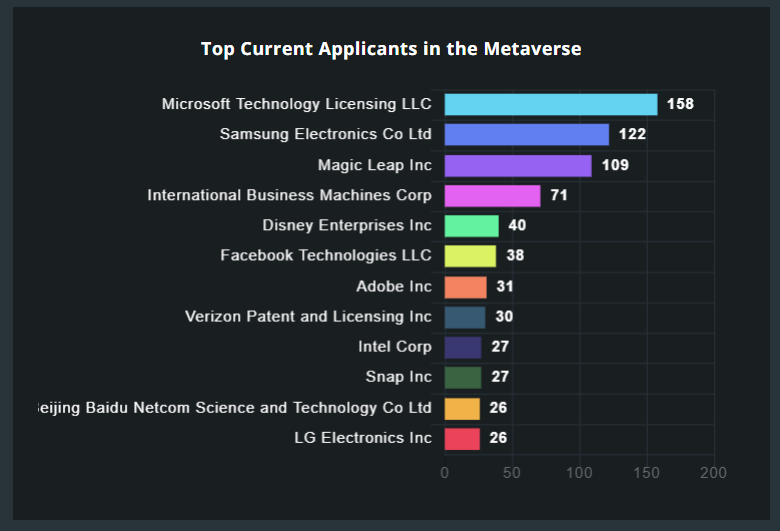 Microsoft
According to the report, over the past 5 years, Microsoft has made the greatest attempt to dominate the metaverse via patents. Their deal is Al who specializes in holographic augmentation, human memory, augmented reality virtual assistants, plus a bunch of other things.
According to the report, Microsoft has made no secret of its intentions to embark on metaverse technology. they announced their acquisition of Activision Blizzard earlier this year. Activision Blizzard creates immersive interactive games like Call of Duty, which is the best-selling game franchise of all time. They lost around $70 billion with the purchase. Microsoft said it wanted to integrate these "building blocks for the metaverse".
Patents and what they protect
The top 10 companies in question have filed patents for virtual and augmented reality, optical systems and heads-up displays, 3D projections, blockchain technology, machine learning, computer graphics, neural network models, pattern and image recognition, holographic augmentation, e-commerce. , network Securityand data processing.
Cryptocurrency also plays an important role in the metaverse innovation landscape and economy.
Do you have something to say about patents or something else? Write U.S or join the discussion in our Telegram channel. You can also find us on tik Tok, FacebookWhere Twitter.
Disclaimer
All information contained on our website is published in good faith and for general information purposes only. Any action the reader takes on the information found on our website is strictly at their own risk.