Despite XRP's recent slowness, the token is performing significantly better than other coins. The bulls successfully defended the $0.3 support and attempted to reverse the trend by moving above the crucial resistance.
As the price did not decline from a false breakout, this indicates that the bulls might be stronger than the bears. Thus, the volume has increased, which is a positive indicator.
As of this writing, XRP is trading at $0.364, up 12% in the past seven days, according to data from Coingecko on Monday.
Suggested Reading | CEL Token Recovers Despite Celsius Bankruptcy
Image - The Coin Republic
XRP green straight candles
Ripple recorded three consecutive daily green candles and buyers were able to increase the price by 15% until Friday evening. The main concern, however, is whether this rally is enough to stop the medium-term downtrend.
On a daily scale, the buyers pushed the price towards the short-term horizontal resistance at $0.4, making a third attempt to breach the key breakout.
The 14-day RSI indicator entered positive territory and broke above the baseline at this time. This means that the bulls are now more dominant than they were before.
Ripple has not been able to reach a higher daily high for quite a long time. Since May of this year, sellers have kept the bulls from breaking above the previous high (in yellow).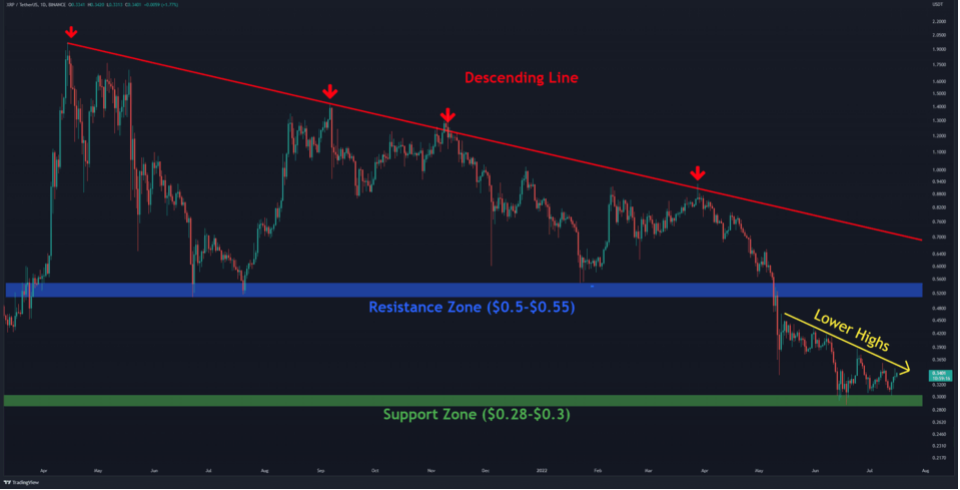 Imge - TradingView.com
In order to start a trend reversal, XRP must first establish a higher high above $0.4. In this case, the bearish momentum could eventually start to diminish.
The bulls should then cross the horizontal barrier between $0.50 and $0.55 (in blue) before retesting the downtrend line (in red).
Overcoming the red static barrier that has been shadowing the price for a considerable amount of time could be a very bullish indicator for the token.
Global Crypto Market Cap Increases 1.35%
According to data from CoinMarketCap at the time of writing, the global cryptocurrency market capitalization has increased by 1.35% in the past 24 hours, reaching approximately $980 billion.
XRP total market cap at $17.6 billion on the daily chart | Source: TradingView.com
The 24-hour volume of the global cryptocurrency market decreased by 1.7% to $61 billion, while the 24-hour volume of DeFi was $5.55 billion, representing 9, 0% of the global crypto market.
The volume of all stablecoins was $55.63 billion, or 90.72% of the 24-hour volume of the entire crypto market.
Currently, XRP is seeing resistance at the 50-day moving average. If there is a breakthrough, it will be the first since March 9 this year. Before a potential reversal, however, the price must first consolidate above the key resistance between $0.48 and $0.52.
Suggested Reading | ApeCoin's Performance Lags Other Altcoins – Here's What Happened to APE
Featured image from The Merkle News, chart from TradingView.com